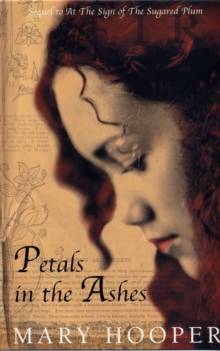 Petals in the Ashes
Paperback
Description
I could barely explain how much I wanted to go back to London, for I hardly understood myself.
I'd hated the stinking city when we'd left, could hardly bear to think on its name, but now the plague had disappeared from the streets the people would be back, the theatres and shops would be open and we would find everything as cheery as it had been before.
Hannah returns to her beloved London to re-open the sweetmeats shop with younger sister Anne.
Londoners are reeling from the plague epidemic of the previous year, but Hannah and Anne are keen to start enjoying everything the bustling city has to offer.
But this is 1666, and it has been prophesised that terrible things will happen, and on Pudding Lane, flames are raging through the bakery...Mary Hooper evokes with complete mastery the sights, sounds and terror of a London gripped by the ferocious and terrible Fire of London, engulfing everything in its path.
Information
Format: Paperback
Pages: 192 pages
Publisher: Bloomsbury Publishing PLC
Publication Date: 05/07/2004
Category: Historical
ISBN: 9780747564614
Free Home Delivery
on all orders
Pick up orders
from local bookshops
Reviews
Showing 1 - 1 of 1 reviews.
Review by Bagpuss
02/03/2016
I thoroughly enjoyed the prequel to this book and this picks up where that left off. Sarah and Hannah have fled from London by using a health certificate belonging to a dying woman and her servant, taking with them a baby girl in order to deliver her to her Aunt's house in far away Dorchester after her family have perished in the plague. But Hannah has left behind her sweetheart Tom and can't wait to get back to London. After visiting their family in Chertsey, it is decided that Sarah will stay on to help her mother who is expecting a baby, and so Hannah persuades her mother and father to let her take her younger sister, Anne, to help out in the shop. <br/><br/>However, disaster strikes when a fire takes hold in the city, and starts to spread. As the Londoners try in vain to contain the fire, Hannah and Anne find themselves in grave danger, and Hannah once again risks losing all that is dear to her. <br/><br/>This was as good as, if not better than, At the Sign of the Sugared Plum. Once again Hooper writes in a way that captivates the reader and draws them in. Her descriptions are excellent and one can almost feel the heat and fear of the terrible events of 1666. A great read for children and adults alike.