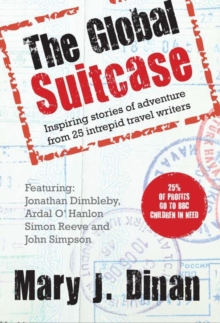 The global suitcase
Hardback
Description
Global Suitcase is a compilation of interviews with everyday people and well-known personalities who have travelled extraordinary journeys or lived unusual lives, often guided by a cause, in the name of work, or in pursuit of adventure.
The author recounts in vivid and colourful detail a snapshot of each of their adventures as well as plenty of humorous anecdotes, before describing and presenting each interview.
Many people within the pages have risked their lives for a cause or found a new cause through their travels.
Many participants showed great strength of character during amazing and dangerous journeys, displaying courage beyond understanding.
All of them have learned much about the world and share their philosophies with us.
Each interview focuses on the precious and timeless memories each has of their journey. This unique celebration of travel and nostalgia includes Michael Palin-actor/author; Ardal O'Hanlon-actor from the Father Ted series; Jonathan Dimbleby-BBC; Geoff Hill-author; Simon Reeve-BBC; Chris P Baker-author; Dervla Murphy-travel author; exclusive interview Michael Palin's personal cameraman Nigel Meakin; Daniel O'Donnell- singer; Carol Drinkwater-author and actress; and adventurer Marianne Du Toit.
Information
Format: Hardback
Pages: 234 pages
Publisher: New Holland Publishers Ltd
Publication Date: 05/02/2014
Category: Travel writing
ISBN: 9781780094571
Free Home Delivery
on all orders
Pick up orders
from local bookshops
Reviews
Showing 1 - 1 of 1 reviews.
Review by crashmyparty
16/06/2015
Thank you to Goodreads and New Holland publishers for providing me with a copy of this book.I love to travel and I love to read about travel in all its forms. I love journeys into the unknown and I love exploring my own backyard. You would think this book, a collection of interviews with people who have done exactly that, would suit me perfectly. You would be wrong.I had high hopes for this book only to be disappointed by it when I was only 20 or so pages in. I decided to stick it out but I think I knew it wouldn't really get any better.The author interviews some interesting people who have done interesting things – only the bland style of the interview just doesn't do them any justice and their stories didn't really inspire me, which is how I want to feel when I read about other people's adventures. It just felt like bragging, 'look at where I've been and what I've done'. Each person's adventure was glossed over and I felt like their credentials were given more attention than deserved in a way that the book felt like one big advertisement for other works of print and film. And it didn't really work, made me feel the opposite. I don't feel inspired to read their full stories because I feel I've had more than enough shoved down my throat about how wonderful each individual person was. They didn't seem that wonderful! One went horse riding through South America for charity but didn't know much about riding or horses (those poor horses!), another forgot his anti-malaria pills in Africa (how smart is he!) and only one story emphasised on the money side of things, that you actually need to have money to travel unless the BBC pays you to do it. Some of the adventurers claimed what they were doing was for charity, but how? Why? Did they actually raise any money? I suppose you would say for these kind of answers I would need to read their books, but that's just advertisement and I don't care enough to pursue it that for. There was also the author who bemoaned the tourism industry, saying that there was nowhere to really escape to anymore - as if she was the only person allowed to travel the places that she did! Her and her high horse really annoyed me.My other issue was with the format and style. The author switches from first to third person within the same sentence and the sentences seem to run on and on while the phrasing is clumsy. The inconsistencies I found just made it just unpleasant for me to read though I understand this won't bother everyone.If you want the stories, seek out the books of those interviewed or, because that sounds like advertisement, just Google them and give this one a miss.