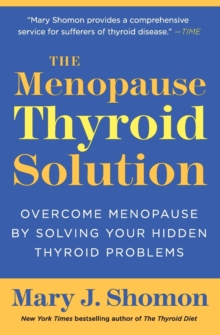 The Menopause Thyroid Solution : Overcome Menopause by Solving Your Hidden Thyroid Problems
Paperback / softback
Description
In her newest book, Mary Shomon takes readers on a quest to understand the profound influence the thyroid has on a woman's hormonal health in the perimenopause and menopause years, and discusses how undiagnosed thyroid problems may be the real culprit behind what many assume are peri/menopausal symptoms.
Many women assume they're suffering from perimenopause or menopause and embark on a wild goose chase of hormone replacement, go soy crazy, start smearing themselves with yam and progesterone creams, or end up taking all sorts of herbs, from black cohosh to chasteberry.
But, when the real culprit is a thyroid problem, these approaches simply don't work. And by age 60, it's estimated that as many as half of women have an underactive thyroid.
A drop in reproductive hormones frequently triggers a thyroid slowdown - a 'thyropause' - that causes misleading symptoms like fatigue, weight gain, and depression. "The Menopause Thyroid Solution" helps readers: know whether they are at extra risk of developing a thyroid condition; recognize the common - and not so common - symptoms of a thyroid problem; learn how to get thyroid and hormonal imbalance problems properly diagnosed; explore how best to treat a thyroid condition, through traditional and non-traditional means; understand how to balance the thyroid with reproductive/sex hormones and adrenal hormones; find out what and how to eat, what medications to consider, what supplements to take, and the mind-body-approaches to practice, in order to balance your hormones; and, improve the metabolism, for more effective weight management and weight loss.
Information
Format: Paperback / softback
Pages: 400 pages
Publisher: HarperCollins Publishers Inc
Publication Date: 15/08/2009
Category: Women's health
ISBN: 9780061582646
Free Home Delivery
on all orders
Pick up orders
from local bookshops