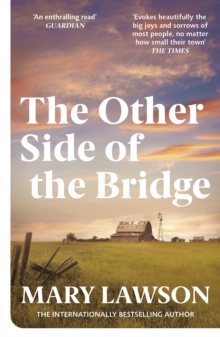 The Other Side of the Bridge
Paperback
Description
Arthur and Jake: brothers, yet worlds apart. Arthur is older, shy, dutiful, and set to inherit his father's farm.
Jake is younger and reckless, a dangerous to know. When Laura arrives in their 1930s rural community, an already uneasy relationship is driven to breaking point...
Information
Format: Paperback
Pages: 288 pages
Publisher: Vintage Publishing
Publication Date: 21/06/2007
ISBN: 9780099437260
Free Home Delivery
on all orders
Pick up orders
from local bookshops
Reviews
Showing 1 - 3 of 3 reviews.
Review by juliette07
16/06/2015
A fine story of the joys and sorrows of life, relationships and shocking events. Set in the author's native Canada this book centres on the invented town of Struan. I use the word centres deliberately. The characters are fixed on their 'place' and the narrative reflects time and again the impact of life and the characters' perceptions of life beyond their town. It is not only the characters who reflect, it was myself reading and taking in their point of view that made me ponder how differently the second world war must have seemed to those living lives so very far away, in such different circumstances. Much of Mary Lawson's prose is almost understated yet at the same time tremendously powerful. She intertwines a sense of place with her characters' sense of belonging and a way of life that may or may not continue. When Pete and Ian sit eye to eye with a myriad of dragonflies on a ledge formed of rock three billion years old, their communing with nature is almost palpable. The whole story encourages the reader to question the values by which we live and the influences that are brought to bear upon us as we make what turn out to be life changing decisions. As Ian thought about Jake following his return 'it was hard to imagine Struan or anything in it being a part of Jake. He didn't look as if he had ever belonged'. Yet Ian envied him, was taken in by his outward countenance and thought that he was 'someone who had all the answers'.This novel painted a real sense of place for me, place in time and the changing nature of place for us all wherever we are. Pete, who had a breadth of knowledge and understanding that Ian admired, chose to stay in that sacred place to make sure the tourists did not find all the best places to fish. This book raises questions of sustainability for caring for our 'place', wherever that may be and however each one of us interprets that sense of place. An excellent book that will reverberate within me for some time.
Review by cotto
16/06/2015
loved this book. It's one of those simple, quiet stories about familial relationships. For me, those types of stories can either go one of two ways: a bore/cliche or meaningful. Lawson's book was a page turner and touching. It also made me really glad that I didn't have any siblings! Sometimes a sibling relationship can be extremely complex and drive you up the wall as this book discusses. When I hear about things like this, I'm somewhat happy that I just have to deal with myself and my relationship with the 'rents. I was surprised to find that the characters were based in rural Canada, albiet a fictional town. That was interesting to me as I don't recall ever reading a book based in Canada. Much of the book takes place during WWII and it was eye opening to see how the Canadian were affected and their views on the war as well.
Review by Brenda63
16/06/2015
An interesting coming of age book. Sibling rivalry is at the heart of the story set partially during World War II in Canada. Weaving back and forth between present day (1940) and 1906 the author skillfully tells the tale of Arthur and Jake Dubbs- brothers who are as different as night and day. A quick read.