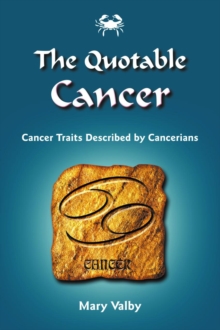 Quotable Cancer : Cancer Traits Described by Cancerians
Paperback / softback
Description
THE QUOTABLE CANCER describes the crusty, protective Cancer personality with more than 600 quotes and examples from celebrated Cancerians like Helen Keller, Ernest Hemingway and Meryl Streep.
Famous Cancer individuals describe their natural Talents for nesting and nurturing in one chapter, addressing Challenges like bossiness and crabbiness in another.
Chapters about Work, Creativity, Sports and Relationships show how the Cancer traits of a hard outer shell and an emotional interior come through in specific arenas.
THE QUOTABLE CANCER reveals a dozen Cancer specialties such as more smothering mothers and more ancestor appreciation than any other zodiac sign. Linda Goodman's Sun Signs has sold tens of millions of copies.
Like Sun Signs, THE QUOTABLE CANCER is entertaining, introductory and accurate.
THE QUOTABLE CANCER goes beyond Sun Signs by letting buyers zero in on the one sign that they're interested in.
This new book describing the core Cancer personality makes a more interesting and informative read than a seasonal book offering the Cancer forecast for 2014.
With lists of more than 150 Cancer artists, 75 leaders, 100 athletes and 150 famous relationships, THE QUOTABLE CANCER satisfies the reader interest in personalised detail that's exemplified by the bestselling astrological item, The Secret Language of Birthdays.
Information
Format: Paperback / softback
Pages: 224 pages
Publisher: Quotable Zodiac Publishing
Publication Date: 15/02/2014
Category: Star signs & horoscopes
ISBN: 9781936998043