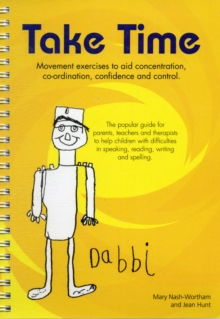 Take Time: Movement Exercises for Parents, Teachers and Therapists of Children with Difficulties in Speaking, Reading, Writing and Spelling
Spiral bound
Description
The activities in this well-established, highly-regarded and widely-used book can assist with a wide range of conditions, including diagnoses of Dyslexia, Dyspraxia, or Attention Deficit Hyper-activity Disorder (ADHD).
Following a valuable introductory background, Take Time provides a series of thoroughly tested and purposeful exercises that tackle fundamental developmental problems behind learning difficulties. The number of children who are hampered by language impairment in speaking, reading, writing or spelling is surprisingly high.
Provided that appropriate action is taken, however, such problems will not usually inhibit a child's long term progress.
Professional advice and involvement is important, but parents themselves can actively participate in the process of helping the child to overcome difficulties by using this book. The main features of Take Time are: 'Pointers' to clarify areas of difficulty, including timing and rhythm, direction, spatial orientation and movement, sequencing, laterality and fine motor control needed for clear speech and successful writing and reading. general exercises for co-ordination and body awareness. specific exercises to help with particular areas of difficulty and individual situations. The main aim of the range of innovative movement exercises and other activities described in Take Time is that they can be tailored specifically to individual situations.
The book acts as a step-by-step guide for parents, teachers, therapists and helpers, pin-pointing and encouraging the use of particular exercises to help develop motor control, co-ordination, directional awareness, balance and rhythm, yet in an enjoyable and holistic way. It is this process which has resulted in the enormous popularity of the book, especially for use by parents.
It is recommended by many centres concerned with dyslexia, dyspraxia and other difficulties. The book also contains details of useful resource equipment, books and contact addresses.
Information
Format: Spiral bound
Pages: 106 pages, Black & White Illustrations. 50 approx.
Publisher: Robinswood Press
Publication Date: 01/01/2008
ISBN: 9781906053802
Free Home Delivery
on all orders
Pick up orders
from local bookshops