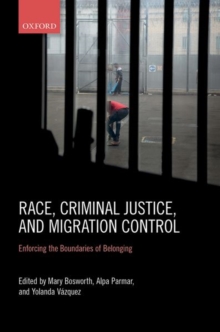 Race, Criminal Justice, and Migration Control : Enforcing the Boundaries of Belonging
Hardback
Description
The criminalization of migration is heavily patterned by race.
By placing race at the centre of its analysis, this volume examines, questions, and explains the growing intersection between criminal justice and migration control.
Through the lens of race, we see how criminal justice and migration enmesh in order to exclude, stop, and excise racialized citizens and non-citizens from societies across the world within, beyond, and along borders.
Race and the meaning of race in relation to citizenship and belonging is excavated through the chapters presented in the book, and the book as a whole, thereby transforming the way we think about migration.
Neatly organized in four sections, the book begins with chapters that present a conceptual analysis of race, borders, and social control, moving to the institutions that make up and shape the criminal justice and migration complex.
The remaining chapters are convened around the key siteswhere criminal justice and migration control intersect: policing, courts, and punishment.
Together the volume presents a critical and timely analysis of how race shapes and complicates mobility and how racism is enabled and reanimated when criminal justice and migration control coalesce.
Free Home Delivery
on all orders
Pick up orders
from local bookshops