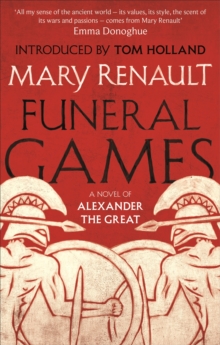 Funeral Games : A Novel of Alexander the Great: A Virago Modern Classic
Paperback / softback
Description
'The Alexander Trilogy contains some of Renault's finest writing.
Lyrical, wise, compelling: the novels are a wonderful imaginative feat' SARAH WATERSIn the final novel of her stunning trilogy, Mary Renault vividly imagines the life of Alexander the Great, the charismatic leader whose drive and ambition created a legend. Alexander the Great died at the age of thirty-three, leaving behind an empire that stretched from Greece and Egypt to India.
After Alexander's death in 323 B.C. his only direct heirs were two unborn sons and a simpleton half-brother.
Every long-simmering faction exploded into the vacuum of power.
Wives, distant relatives and generals all vied for the loyalty of the increasingly undisciplined Macedonian army.
Most failed and were killed in the attempt. For no one possessed the leadership to keep the great empire from crumbling.
But Alexander's legend endured to spread into worlds he had seen only in dreams. 'Mary Renault is a shining light to both historical novelists and their readers.
She does not pretend the past is like the present, or that the people of ancient Greece were just like us.
She shows us their strangeness; discerning, sure-footed, challenging our values, piquing our curiosity, she leads us through an alien landscape that moves and delights us' - HILARY MANTEL'The Alexander Trilogy stands as one of the most important works of fiction in the 20th century . . . it represents the pinnacle of [Renault's] career . . . Renault's skill is in immersing us in their world, drawing us into its strangeness, its violence and beauty.
It's a literary conjuring trick like all historical fiction - it can only ever be an approximation of the truth.
But in Renault's hands, the trick is so convincing and passionately conjured' Antonia Senior, The Times
Information
Format:Paperback / softback
Pages:336 pages
Publisher:Little, Brown Book Group
Publication Date:07/08/2014
Category:
ISBN:9781844089598
Also in the Virago Modern Classics series | View all