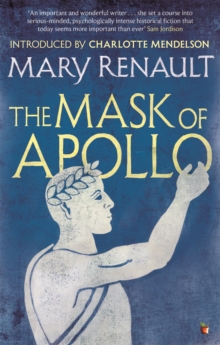 The Mask of Apollo : A Virago Modern Classic
Paperback / softback
Description
'Mary Renault is a shining light to both historical novelists and their readers.
She does not pretend the past is like the present, or that the people of ancient Greece were just like us.
She shows us their strangeness; discerning, sure-footed, challenging our values, piquing our curiosity, she leads us through an alien landscape that moves and delights us' HILARY MANTEL'Mary Renault's portraits of the ancient world are fierce, complex and eloquent, infused at every turn with her life-long passion for the Classics.
Her characters live vividly both in their own time, and in ours' MADELINE MILLERCombining the scholarship of a historian with the imagination of a novelist, Mary Renault brings the ancient Greek stage thrillingly to life. Set in fourth-century B.C. Greece, The Mask of Apollo is narrated by Nikeratos, a tragic actor who takes with him on all his travels a gold mask of Apollo, a relic of the theatre's golden age, which is now past.
At first his mascot, the mask gradually becomes his conscience, and he refers to it his gravest decisions, when he finds himself at the centre of a political crisis in which the philosopher Plato is also involved.
Much of the action is set in Syracuse, where Plato's friend Dion is trying to persuade the young tyrant Dionysios the Younger to accept the rule of law.
Through Nikeratos' eyes, the reader watches as the clash between the two unleashes all the pent-up violence in the city. 'All my sense of the ancient world - its values, its style, the scent of its wars and passions - comes from Mary Renault.
I turned to writing historical fiction because of something I learned from Renault: that it lets you shake off the mental shackles of your own era, all the categories and labels, and write freely about what really matters to you' EMMA DONOGHUE 'There's much to wonder at in the way she fills in the large dark spaces where we know next to nothing about the times she describes . . . an important and wonderful writer . . . she set a course into serious-minded, psychologically intense historical fiction that today seems more important than ever' - Sam Jordison, Guardian
Information
Format:Paperback / softback
Pages:416 pages
Publisher:Little, Brown Book Group
Publication Date:06/08/2015
Category:
ISBN:9781844089567
Also in the Virago Modern Classics series | View all