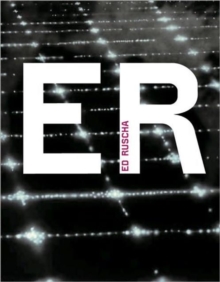 Tate Modern Artists: Ed Ruscha
Paperback / softback
Description
The American artist Ed Ruscha (b. 1937) has worked in a variety of media, including painting, printmaking, drawing, photography, books and film, to produce art that is at once playful and profound.
Based in Los Angeles, since the late 1950s, he was influential in the development of Pop Art on the West coast, particularly through the production of a series of artist's books that continue to inspire younger generations of artists.
Ruscha's works often involve the setting of a single word or phrase against a coloured or stained background or a monumental landscape. 'Words have temperatures to me', he has said. 'When they reach a certain point and become hot words, then they appeal to me...Sometimes I have a dream that if a word gets too hot and too appealing, it will boil apart, and I won't be able to read or think of it.
Usually I catch them before they get too hot.' This book traces the development of Ruscha's work across five decades, exploring its engagement with Dada and Surrealism, Pop, the rise of Conceptual art, photography, literature and cinema. It will also focus in detail on Ruscha's techniques - in particular, his delicate drawings and prints using organic materials - and the process of making art as documented in his notebooks.
With stunning reproductions and new interview material, the book will explore his oeuvre's internal logic as words, images and phrases resurface time and again throughout his career.
Information
Format: Paperback / softback
Pages: 128 pages, 100 full-color illustrations
Publisher: Tate Publishing
Publication Date: 01/10/2008
Category: Individual artists, art monographs
ISBN: 9781854376237