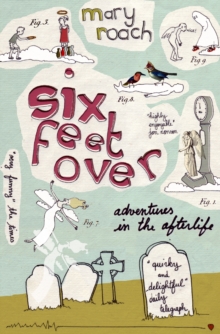 Six Feet Over : Adventures in the Afterlife
Paperback
Description
Does the light just go out and that's that - the million-year nap? Or will some part of my personality, my me-ness, persist?
What will that feel like? What will I do all day? Is there a place to plug in my laptop?"Mary Roach trains her considerable humour and curiosity on the human soul, seeking answers from a varied and fascinating crew of contemporary and historical soul-searchers: scientists, schemers, engineers, mediums, all trying to prove (or disprove) that life goes on after we die.Along the way she encounters electromagnetic hauntings, out-of-body experiences, ghosts and lawsuits: Mary Roach sifts and weighs the evidence in her hilarious, inimitable style.
Information
Format: Paperback
Pages: 320 pages
Publisher: Canongate Books Ltd
Publication Date: 03/04/2008
Category: Thought & practice
ISBN: 9781847670809
Free Home Delivery
on all orders
Pick up orders
from local bookshops
Reviews
Showing 1 - 1 of 1 reviews.
Review by shanaqui
16/06/2015
I don't think I'm the greatest fan of Mary Roach's style. It's informal, easy to read, self-deprecating -- but when it comes to a topic like this, I don't want to hear all about Mary Roach unless it really illuminates the subject matter. Granted, stuff like near-death experiences and the various ideas of what happens to us after we die are things I've been interested in for a long time, and don't really need an entry-level primer on. (I had to memorise the stages of an NDE as described by Kenneth Ring for my religious studies A Level.)Still, where this deals with facts instead of impressions, it's interesting stuff. A couple of the studies and anecdotes were familiar to me from what I already knew: I still find the case of the woman who saw the surgical tools being used on her despite having her eyes taped shut an interesting one. (It's convincing because it wasn't a typical tool, not something she'd have come across elsewhere, and she didn't see the instruments before or after her operation.)Overall, this probably isn't going to convince you either way, if that's what you're looking for, but it's certainly got some interesting snippets of information.