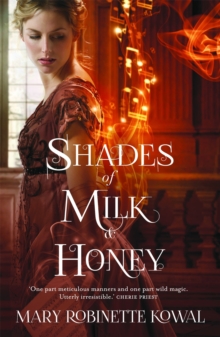 Shades of Milk and Honey
Paperback
Description
In Regency England, Jane Ellsworth of Dorchester is a woman ahead of her time. Not only is she highly skilled in the manipulation of glamour - plucking strands from the Ether to create genteel magical illusions - she's also ambitious for her art, and dreams of being recognised as a glamourist of note in her own right, as men are permitted to.
First and foremost, however, a lady of quality must marry well, and alas Jane's ambitions do not extend to her romantic prospects.
Compared to her beautiful sister Melody, Jane feels invisible to suitors, and is resigned to a life of spinsterhood. But when her beloved family comes under threat, Jane uses her magical skills to put things right, which attracts the attention of professional glamourist Mr Vincent ...and unwittingly wanders in to a love story of her own.
Information
Format: Paperback
Pages: 272 pages
Publisher: Little, Brown Book Group
Publication Date: 03/10/2013
Category: Fantasy
ISBN: 9781472102492
Free Home Delivery
on all orders
Pick up orders
from local bookshops
Reviews
Showing 1 - 1 of 1 reviews.
Review by iansales
16/06/2015
I am, I freely admit, a fan of Heyer's novels, and while I wouldn't call myself an Austen fan, I've certainly read her books. So when I first saw Kowal's Regency fantasy, I knew that sooner or later I'd be picking up a copy. In fact, I received this book as a Christmas present. And read it during the journey back to the UK. It's pretty much as you'd expect – old-maid-ish daughter of comfortably well-off provincial family gets all excited when eligible men turn up at the local nob's house. The difference here is that people can practice a sort of light-based magic, "glamour", which allows them to create illusions – and this has become a new… well, not art-form, but certainly a form of "accomplishment". Jane is the plain older sister of beautiful Melody, whose charms are sure to land her a good match, except Jane is gifted at glamour – so cue a pair of "interesting" gentlemen who are drawn to Jane, Melody's bitterness because she's smart enough to realise a pretty face is not enough, the return of a childhood friend who proves to be a bounder, a young girl who Jane takes under her wing… It's a polished piece, perhaps a little too polished – there was something that didn't quite ring true about it all, not that it prevented me from enjoying it. Kowal handles the relationships well, and the glamour is nicely done – but the story seemed wrapped up almost as an afterthought with a throwaway happy-ever-after ending. At the moment, I'm not sure if I'll be bothering with the rest of the series.