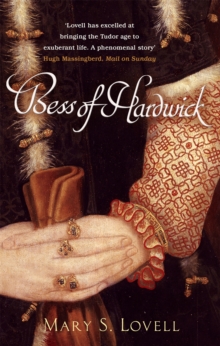 Bess of Hardwick : First Lady of Chatsworth
Paperback
Description
Bess of Hardwick was one of the most remarkable women of the Tudor era.
Gently-born in reduced circumstances, she was married at 15, wedded at 16 and still a virgin.
At 19 she married a man more than twice her age, Sir William Cavendish, a senior auditor in King Henry VIII's Court of Augmentations.
Responsible for seizing church properties for the crown during the Dissolution, Cavendish enriched himself in the process.
During the reign of King Edward VI, Cavendish was the Treasurer to the boy king and sisters and he and Bess moved in the highest levels of society.
They had a London home and built Chatsworth House in Derbyshire.
After Cavendish's death her third husband was poisoned by his brother.
Bess' 4th marriage to the patrician George, 6th Earl of Shrewsbury, Earl Marshall of England, made Bess one of the most important women at court.
Her shrewd business acumen was a byword and she was said to have 'a masculine understanding', in that age when women had little education and few legal rights.
The Earl's death made her arguably the wealthiest and therefore - next to the Queen - the most powerful woman in the country.
Information
Format: Paperback
Pages: 576 pages, Section: 16, colour
Publisher: Little, Brown Book Group
Publication Date: 03/08/2006
ISBN: 9780349115894
Free Home Delivery
on all orders
Pick up orders
from local bookshops
Reviews
Showing 1 - 1 of 1 reviews.
Review by AdonisGuilfoyle
16/06/2015
A well-researched and accessible account of Bess of Hardwick, the formidable matriarch of the 'Chatsworth' Cavendish family. Born at Old Hardwick House in Derbyshire, Bess built her own powerful and wealthy dynasty during the Elizabethan era by marrying onwards and upwards, acquiring money, status and a title from her four husbands (the first of whom she married at the 'tender age' of fifteen). Biographer Mary Lovell is keen to defend Bess as a shrewd businesswoman and loving wife and mother, instead of the traditional historical portrait of a calculating golddigger and grasping old harridan, and presents a convincing case. Bess' first husband died young, and Bess had to fight for her rights as his widow. Husband number two, Sir William Cavendish, was twice Bess' age and twice widowed, but he bought the Chatsworth estate for Bess and they had eight children together, including second son William, whose descendents include the first Duke of Devonshire. Bess' next husband, Sir William St Loe, left Bess all of his considerable fortune, making her one of the wealthiest women in the country, after Queen Elizabeth. And her fourth marriage, a final love match which soured in later years, was to George Talbot, Earl of Shrewsbury, making Bess a Countess. The Earl was given the poisoned chalice of 'keeping' Mary, Queen of Scots, after she was imprisoned by Queen Elizabeth in 1568, and the strain of guarding Mary in the Earl's own houses and castles for fifteen years eventually caused the breakdown of the Earl's marriage to Bess, and destroyed his health. After her last husband's death, Bess focused her considerable energies and wealth on her children and grandchildren - in particular her granddaughter Arbella, a potential heir to the throne after Elizabeth - and on expanding her already vast estates. Leaving Chatsworth, the house which she started building with Sir William Cavendish and later shared with the Earl (and Mary, Queen of Scots, on occasion) for her son, Bess set to building a new Hardwick Hall for herself, an impressive house - 'more glass than wall' - which remains today as a lasting monument to an incredible and determined woman.I was disappointed that I was unable to borrow Mary Lovell's biography from the library - I plead lack of shelf space for not buying my own copy - because the Kindle version does not include any of the images featured in the printed copy, but this is an excellent account of Bess of Hardwick all the same. Lovell expertly combines history with personality, bringing to life the social and political background of Bess' England, so that modern readers understand just how impressive this woman was. I am full of admiration for Bess, who married at fifteen and lived until she was eighty, and cannot wait to visit her beloved house, Hardwick Hall, later this year!