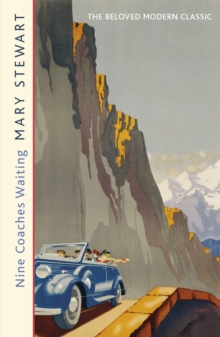 Nine Coaches Waiting : The twisty, unputdownable romantic suspense classic
Paperback / softback
Description
A thrilling, twisty tale of a dangerous romance set in the heart of mid-century Savoy, from the original queen of romantic suspense. 'Mary Stewart is magic' New York Times Linda Martin understands what is to be lonely: her parents died when she was young, and she was raised in an orphanage.
When she is hired as a governess to the orphaned young Philippe, Comte de Valmy, Linda finds a kindred spirit in the lonely little boy.
But Philippe is the heir to a vast estate in Savoy, and his dangerously handsome uncle may be willing to kill to ensure that Philippe never inherits it . . . Praise for Mary Stewart:'A wonderful wordsmith' Scotsman'I'd rather read her than most other authors' Harriet Evans'One of the great British storytellers of the 20th century' Independent'She set the benchmark for pace, suspense and romance - with a great dollop of escapism as the icing' Elizabeth BuchanReader reviews of Nine Coaches Waiting:'I was hooked from page one to page-the-end . . . Stewart is a wonderful writer''It had me in it's thrall from start to finish.
I am compelled to recommend this book to anyone who loves a good read that keeps you on tenterhooks all the way through''I finished it at 4 in the morning.
Talk about unputdownable!''A very good blend of thriller and romance . . . perfect for a lazy day by the pool'
Information
Format: Paperback / softback
Pages: 480 pages
Publisher: Hodder & Stoughton
Publication Date: 11/01/2011
Category: Crime & mystery
ISBN: 9781444711073