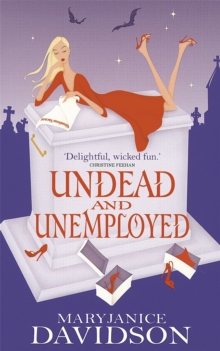 Undead and Unemployed
Paperback
Description
And the first who shall noe the Queen as a husband noes his Wyfe shall be the Queen's Consort and shall rule at her side for a thousand yeares.' The Book of the Dead. 'If that rat bastard Sinclair thinks I'm going to be his wife for a thousand years, he's out of his f***** mind.' From the private papers of Her Majesty, Queen Elizabeth I, Empress of the Undead, Rightful Ruler of the Vampires, Consort of Eric I, Lawful King.
Nothing can make Betsy Taylor give up her shoe fetish - even dying and rising as the new Queen of the Vampires.
Only being royally undead doesn't mean there aren't still credit card bills to be paid. Things couldn't be better - except for her new friends who keep pestering her while she's at work.
As if she has time to socialise when there are deliciously sinful shoes to try on - and buy at a discount.
It seems there's been a string of vampire murders in town and they're all clamouring for Betsy to do something about it.
The worst part is she'll have to enlist the help of the one vamp who makes her blood boil: the oh-so-sexy Eric Sinclair.
Only the last time she ran into Sinclair she accidentally fulfilled an ancient prophesy - and ended up married to him
Information
Format: Paperback
Pages: 240 pages
Publisher: Little, Brown Book Group
Publication Date: 01/02/2006
Category: Horror & ghost stories
ISBN: 9780749936464
Free Home Delivery
on all orders
Pick up orders
from local bookshops
Reviews
Showing 1 - 4 of 4 reviews.
Review by Tudorrl
16/06/2015
Again, a good fun read. Nothing taxing but it made me laugh out loud in places and I enjoyed it! If you're looking for something light to read then you could do worse than this series.
Review by francescadefreitas
16/06/2015
This second installment in the Undead series was as funny and silly as the first. A quick, entertaining read, when you're looking for a giggle.
Review by Rhinoa
16/06/2015
Betsy is back and is trying to refuse being made Queen of all the vampires. It seems her special vampire powers set her apart from the others and the prophecies say she is their Queen. Unfortunately she has been saddled with a King which she is not happy about at all. To make things more complicated it seems she can see and communicate with ghosts.Betsy gets a job in a Macy's shoe store, her dream job, but her vampire life keeps interfering. Sinclair won't leave her alone, determined to be her consort in all aspects much to her bisgust (and silent enjoyment). Unfortunately there seems to be a slayer in town killing vampires. They don't seem to understand that not all vampires are blood thirsty monsters and some are good and don't inflict pain and suffering on humans.Another great installment, I am definitely hooked on this series and will be continuing with it soon. I love the humor, the sexiness and the attitude.
Review by lewispike
16/06/2015
Betsy is a few months older and settling in to being a vampire. Someone is staking female vampires on alternate Wednesdays and as queen it's up to her to sort it out. She also gets a job selling shoes (where else?!).Although the elements that made the first book so much fun are still there (and come back again in the next one) I found this book weaker, at least because I'd worked out who the bad guys were very, very quickly.
Also in the Undead/Queen Betsy series | View all