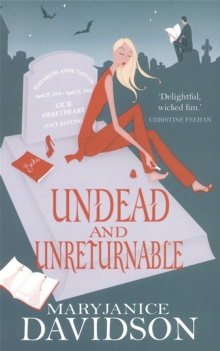 Undead and Unreturnable
Paperback
Description
Just when Betsy Taylor thinks she's adjusted to her after-life as a vampire queen, fate intervenes.
It's bad enough having to view your own gravestone but now Betsy's even started seeing dead people - an assortment of demanding ghosts who are determined to make her do their bidding.
Betsy also has some personal stuff to deal with - not least of which is planning her Spring - and Midnight - wedding to Sinclair.
Meanwhile her half-sister is starting to display signs of inheriting her real mother's temper. And when your mother's the devil, that's cause for concern
Information
Format: Paperback
Pages: 240 pages
Publisher: Little, Brown Book Group
Publication Date: 01/05/2006
Category: Horror & ghost stories
ISBN: 9780749936433
Free Home Delivery
on all orders
Pick up orders
from local bookshops
Reviews
Showing 1 - 4 of 4 reviews.
Review by Tudorrl
16/06/2015
The fourth book in the "undead" series. I enjoyed this book - I agree the plots are a bit daft but if you just take them for what they are I think there are enough laughs here to keep most people relatively happy.
Review by wyvernfriend
16/06/2015
Book four of the series and it's starting to flag. Betsy's wedding is looming and Sinclair is refusing to get involved. She still has George the Fiend in her basement and he's getting more human. Her half-sister Laura is getting more involved in her life and her friends are all still living in that large house of theirs.Oh and she deals with a serial killer, mostly because one of his victims nags her into it.This isn't bad, don't get me wrong here, it just isn't anything I'd wait with bated breath for the next installment of. Fun, light fiction that reads like a short story and lasts about as long for me sometimes.
Review by Rhinoa
16/06/2015
Betsy is back for another adventure. She has a wedding coming up that needs a lot of planning as well as setting a firm date. It needs to be something suitable for humans as well as vampires. Being the Queen of the Vampires she is able to see ghosts and she is plagued by the ghost of a woman who was murdered a local serial killer. They all fit a similar profile to Betsy and the ghost wants her to lead the police or dispose of her murderer before he kills more women.Betsy gets help from here sister. Trouble is she is exhibiting some disturbing behaviour and as her mother is the Devil Betsy is understandably worried. George the Fiend ends up getting stuck in the drama as Besty tries to gain more favour from the vampire community, keep an eye on her sister and solve a murder.These books are just so much fun. Very light and easy to read. One quote that stuck in my mind and sums up the two main characters Betsy and Sinclair quite well is :"You don't even have to pick the flowers you like, okay? Just pick the ones you absolutely loathe, can't stand the site of, and I'll be syre those aren't anywhere near you on the big day.""Darling", he said, turning the page, "I just don't have intensely strong feelings for flowers.""But you were raised on a farm! You must have some preferences.""Darling, I have a penis. Ergo I have no preferences."
Review by lewispike
16/06/2015
There's a story in here struggling to get out. All the old features of the series are there, and are still as engaging as always, but the story-writing style has veered from a story with engaging characters to soap opera plot where the characters are all important and the story doesn't really matter.This is a crying shame because some of the elements, in particular Laura starting to act more like she's her mother's daughter could be fascinating, with Betsy's ghost laying a close second, but it's buried under a load of other stuff.I wonder, given the comments of one of the characters, if this is an attempt to be post-modernly ironic, but if so the humour doesn't really translate to me.
Also in the Undead/Queen Betsy series | View all