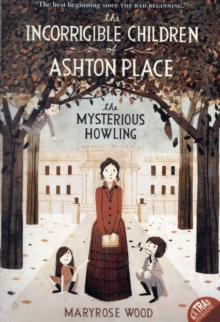 The Incorrigible Children of Ashton Place: Book I : The Mysterious Howling
Paperback
Description
Of especially naughty children, it is sometimes said: "They must have been raised by wolves." The Incorrigible Children actually were. Discovered in the forest of Ashton Place, the Incorrigibles are no ordinary children.
Luckily, Miss Penelope Lumley is no ordinary governess.
A recent graduate of the Swanburne Academy for Poor Bright Females, Penelope embraces the challenge of her new position.
Though she is eager to instruct the children in Latin verbs and the proper use of globes, first she must eliminate their canine tendencies. But mysteries abound at Ashton Place: Who are these three wild creatures?
Why does Old Timothy, the coachman, lurk around every corner?
Will Penelope be able to civilize the Incorrigibles in time for Lady Constance's holiday ball? And what on earth is a schottische? Penelope is no stranger to mystery, as her own origins are also cloaked in secrecy.
But as Agatha Swanburne herself once said, "Things may happen for a reason, but that doesn't mean we know what the reason is-at least, not yet."
Information
Format: Paperback
Pages: 288 pages
Publisher: HarperCollins Publishers Inc
Publication Date: 01/02/2010
Category: Adventure
ISBN: 9780061791109
Other Formats
EPUB from £3.49
eAudiobook MP3 from £14.99
Free Home Delivery
on all orders
Pick up orders
from local bookshops
Reviews
Showing 1 - 5 of 16 reviews.
Previous | Next
Review by Smiler69
16/06/2015
Now there was a good bit of fun! I'm not a frequent reader of YA novels, but I do enjoy them once in a while, and this one turned out to be a real treat. Fifteen year-old Penelope Lumley, just graduated from the Swanburne Academy for Poor Bright Females sometime in the mid 19th century, is on her way to her first job interview as a potential governess. The employers had asked for someone who gets along with animals, and as it happens she is a great animal lover and is very much looking forward to finding out what sort of creatures she will find at her potential employers'. When she arrives at Ashton place with some trepidation, not being sure whether she will be able to call this place her home or be sent away, she is greeted with mysterious howling sounds, which everyone in the estate seems to be at pains not to hear. But inevitably, she is hired and comes face to face with her charges; three young siblings, two boys and a small girl, who have grown up wild in the local woods, seemingly having been raised by wolves. Her mandate of teaching them French and Latin and Geography and Mathematics, will also have to include teaching them first to start talking like human beings and (for the boys) how to properly put a pair of pants on. The children are very attached to her and she's delighted with their progress, though of course a big challenge is thrown her way; she must groom them to behave irreproachably and in very short order, to be the main attraction at a grand Christmas ball to which high dignitaries and the crème de la crème of society will be invited, and this when the children are still barely able to contain themselves from howling at the least provocation! Elements of Jane Eyre come into play when some of the mysterious howlings seemingly turn out to originate from a hidden portion of the attic. But the secret of this strange mystery will only be revealed in a further instalment in the series it seems, which is just as well because I will happily continue to follow along the adventures of Miss Lumley and the Incorrigibles.
Review by LadyJai
16/06/2015
My 8 year old son began reading this and lost interest rather quickly. When I picked it up to read it I could understand why. It is written in period language. I am not sure even a girl of the same age would find this an easy read. Maybe it's the age. Maybe had my son been a bit older, say 10 or 12, it might have been more interesting. Aside from that, I really did enjoy the book.I rather enjoyed the language of the book. The author did a very good job with the style of the period. It was proper, as any refined and educated girl would be expected to be. The story is about a 15 year old girl who just graduated from Swanburne Academy. As governess, she quickly learns the truth about the "wild children" of Ashton Place and vows to treat them and educate them like children should be. She has a grand task ahead of her and shows just how exceptional a teacher she is by books end...but there is more to the story. I knew from the beginning that this was a series of books, but did not realize that the story itself would not be finished in the first book. So, be warned, you may want to get the second and third book lined up for when you are done with the first!
Review by keristars
16/06/2015
I read this first book in the Incorrigible Children series after reading the second in the series, <i>The Hidden Gallery</i>, so I was spoiled somewhat for some of the details. I think this lessened my enjoyment of the book, since although there was a lot more that happened in <i>The Mysterious Howling</i> than got revisited in <i>The Hidden Gallery</i>, I still knew how the plot would go.On the other hand, several people reviewed the second book and noted that much of the novelty of the style and plot wore a bit thin — perhaps I am experiencing the same thing, but in reverse, because I read that one first.Nonetheless, <i>The Mysterious Howling</i> is a delightful, affectionate pastiche of classic children's books. The main character is a 15-year-old governess named Penelope Lumley from the Swanburne Academy for Poor Young Females, and who doesn't know very much of the world except what she has learned from her books. Her charges are three wild children found in the forest and who were apparently quite literally raised by wolves. Penelope is tasked with turning them into proper children for Lord and Lady Ashton to show off. The Lord Ashton seems to think of them as a prize hunting trophy, whereas Lady Ashton would rather not have anything to do with them at all - unless they can bolster her social standing (she is a bit of a frivolous young woman).There are some mysterious goings on about Ashton Place beyond the children, but I'm not sure that young readers will pick up on the clues as easily as adults or more genre savvy young people would. However, I think this book would be a lot of fun for an adult to read with a child, especially because of the various asides and comments to the reader that are similar to those in <i>A Series of Unfortunate Events</i>, but in a much more pleasant and optimistic way.On the whole, though, I suspect that this planned trilogy may have been best served to be a single long volume, rather than split into three separate books.
Review by mary.kyart
16/06/2015
ADORABLE!!! It's like Jane Eyre meets Lemony Snicket and The Willoughbys.
Review by phh333
16/06/2015
Really liked this book which has the elements of Nannie McPhee and The Series of Unfortunate Events. Children who were raised by wolves are given a home with the hunter who found them. A governess is hired to care for them. The audio book was spectacular with the actor giving voice to the children with a wolfish, howling accent. This first book leaves the reader in suspense and wanting more.
Also in the Incorrigible Children of Ashton Place series | View all