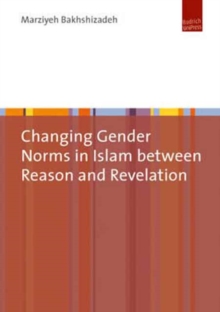 Changing Gender Norms in Islam Between Reason and Revelation
Hardback
Description
The disputes about human reason and its relation to revelation can be traced in various Islamic schools of thought since the eighth century AD.
However, the disputes have intensified since the eighteenth century when Muslims faced challenges to their faith and social order, brought about by modernity and enlightenment from the West.
There were various reactions within the Islamic world.
These reflections produced different interpretations of Islam that can be categorized based on their understanding of how compatible Islamic laws are with a specific time and space; as well as how they define the relationship between human reason and revelation.
The three major interpretations of Islam within a spectrum are on the far right fundamentalists, in the middle reformists, and on the far left secularists; each having diverse views on the legitimacy and applicability of all Islamic law in modern times, and consequently having various perspectives on justice and gender equality. Accordingly, the author aims to investigate the different interpretations on Islam to find out which interpretations are compatible with the global norms of justice, and hence in accord to women's rights and gender equality.
In order to analyze the Islamic thought flows through a sociological perspective, a theoretical model is proposed based on theories of sociology of religion (Peter Berger and Thomas Luckmann), Structuration theory (Anthony Giddens) and struggles related to universal norms of justice (Nancy Fraser, Axel Honneth, Seyla Benhabib).
According to this theoretical model, there is a dialectical relationship between individual and structure.
Religion, as a factor of structure, defines a framework of interaction for individual agents in personal and social life.
Religion also offers a value and meaning system for human beings.
On the other hand, human beings examine the patterns of interaction through 'reflexive monitoring,' and employing human reason and rational explanation.
Therefore, human beings do not passively accept all patterns of interaction. In this model of dialectical relationship between individual and structure, justice means providing equal access to political, economic, and cultural resources in society and in the family.
On this matter, the Universal Declaration of Human Rights and the Convention on the Elimination of all Forms of Discrimination Against Women provide practical and universal criteria for the protection of human and women's rights, and ensure gender equality in society.
Following the theoretical model, the research aims to reconstruct the main interpretations of Islam in three core issues of Islamic law, human reason, and women's rights considering universal norms of justice.
Information
Format: Hardback
Pages: 270 pages
Publisher: Verlag Barbara Budrich
Publication Date: 28/03/2017
Category: Gender studies, gender groups
ISBN: 9783863887353
Free Home Delivery
on all orders
Pick up orders
from local bookshops