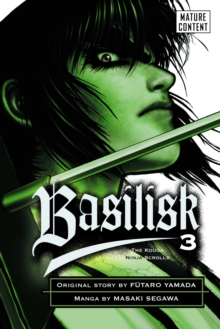 Basilisk volume 3
Paperback
Description
Thanks to the machinations of Ieyasu Tokugawa, the age-old truce between the Kouga and the Iga clans is no more - and now a fight to the death will decide who will reign supreme.
Oboro has blinded herself in order to avoid having to kill Gennosuke, her lover - and her rival.
Meanwhile, Gennosuke has urged the Iga clan to join him on a journey to Sunpu to find out the real motive behind Ieyasu Tokugawa's orders to fight.
But the Iga have other plans. The hirsute Nenki and the butterfly-wielding Hotarubi rush to assassinate Gennosuke, while Tenzen has sinister intentions for a defenseless Oboro.
The epic battle of blood and betrayal continues!
Information
Format: Paperback
Pages: 240 pages
Publisher: Cornerstone
Publication Date: 01/01/2007
Category: Manga
ISBN: 9780099504740
Free Home Delivery
on all orders
Pick up orders
from local bookshops
Reviews
Showing 1 - 1 of 1 reviews.
Review by krau0098
16/06/2015
This is the third book in the Basilisk series. The series is decently written and illustrated, but the plot has been pretty repetitive and I am disappointed at the roles the women in this series have been given.Pretty much the synopsis of the story hasn't changed.. The Kouga and Iga ninjas are all trying to kill each other out in order to determine who will be left standing and who will become the next Shogun. I continue to have issues with this series. We get to see another woman ninja's powers and they are basically that she kills anyone she sleeps with, sigh. Where are the women ninja with cool powers? In this volume we also get an attempted rape scene (between members of the same clan)...not my favorite. The authors are starting to reuse plot devices as well. In volume 2 Oboru blinded herself with a potion so that she couldn't participate in the Iga versus Kouga ninja battles. Oboru remains a weepy, passive, and weak female character that I intensely dislike. So to shake things up Gennasuke is blinded in this volume, making it so both clans have lost their Aces...it was so predictable. The illustration is pretty good, but all the women have these ginormous breasts which are totally disproportionate to their bodies. To be fair a lot of the men are overly muscled as well (although we don't see them naked nearly as much). I am not a fan of overly characterized body illustration.Overall this series is just getting boring and bad. I am trying to decide if I will finish it or not, there are only two books left and they are quick reads...but I am beginning to really dislike these. I really dislike fantasy series in which all the females are given demeaning roles. I had to read a lot of fantasy like that while I was growing up (because there weren't a ton of options with strong female characters in the fantasy genre) and it's something I don't ever need to read more of.
Also by Masaki Segawa