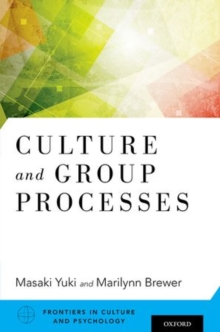 Culture and Group Processes
Paperback / softback
Description
Human beings are adapted for group living. Groups have a wide range of adaptive functions for individuals, including both material benefits of mutual aid and collective action, and subjective psychological benefits of affiliation and social identity.
Recent development of cultural psychology, however, has uncovered that culture plays crucial roles in group processes: patterns of group behavior and underlying psychological processes are shaped within specific culturalcontexts, and cultures emerge in group-based interactions.
Culture and Group Processes, the inaugural volume of the Frontiers of Culture and Psychology series, is the first edited book on this rapidly emerging research topic.
The eleven chapters included in this volume, all authored by distinguishedscientists in the field, reveal the role of culture in group perceptions, social identity, group dynamics, identity negotiation, teamwork, intergroup relations, and intergroup communication, as well as the joint effect of cultural and group processes in interpersonal trust and creativity.
Also in the Frontiers in Culture and Pyschology series