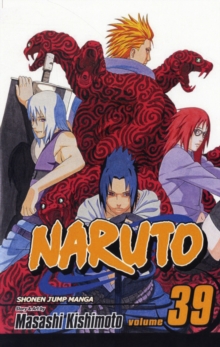 Naruto, Vol. 39 : Naruto
Paperback
Part of the Naruto series
Description
It's shades of the influence of Orochimaru when Sasuke names his new ninja cell Team Serpent.
While Naruto and the others try to keep tabs on Sasuke, their long-lost pal ends up in fierce battle with an old enemy.
The outcome could bring the ninja world as Naruto knows it to an end faster than he ever imagined!
Information
Format: Paperback
Pages: 192 pages
Publisher: Viz Media, Subs. of Shogakukan Inc
Publication Date: 01/03/2009
Category: Manga
ISBN: 9781421521756
Free Home Delivery
on all orders
Pick up orders
from local bookshops
Reviews
Showing 1 - 3 of 3 reviews.
Review by Carlostheman
16/06/2015
Saskae has finally put together his dream team! Now he is ready to hunt down his brother, Itachi..To kill him.But his teamates always fight each other, especially when one has an unexpected killing instinct that appears anytime.
Review by Chiubaca
16/06/2015
The story and art of Naruto is by Masashi Kishimoto. It is described as a ninja manga. It is the most popular ninja manga in Japan. In this volume, Uzumaki Naruto, a member of the Konoha Shinobi (group of ninjas) and his fellow ninjas, Sakura, Kakashi, and Yamato go search for Uchiha Sasuke, who is a member of the Akatsuki (a criminal organization). Before the start of volume 39, Sasuke had betrayed and killed Lord Orochimaru (one of the Konoha's greatest foes). Sasuke's next and ultimate goal is the destruction of Uchiha Itachi, his brother. Sasuke began assembling a team of powerful allies in order to achieve his ultimate goal. He already recruited the swordsman Suigetsu and the tracker Karin. In volume 39, Sasuke, Suigetsu, and Karin recruit Jugo, a former Akatsuki member who was imprisoned. Naruto realized that Sasuke was looking for Itachi and therefore went to look for Itachi also, in hopes of finding Sasuke at the same time. Itachi, Kisame, and Tobi, members of the Akatsuki look for Sasuke, Kakashi, and Nine Tails' Jinchuriki. Later on, Naruto, Yamato, and Hinata run into Yakushi Kabuto (an Akatsuki member). Naruto and Yakushi Kabuto then engage in combat. At the same time, Sasuke gets attacked by Tobi and by Deidara (another Akatsuki member). Sasuke then engaes in battle against Deidara and Tobi and the volume ends here. The illustrations in volume 39 of Naruto are very well done. There is a lot of action and humor which I like. It can get confusing at some parts but you just need to pay very careful attention when examining each panel. On each page, they have an arrow to help show which way you should be reading since you have to read manga backwards. If you happen to read it like a western style comic, the cover page tells you "You're Reading in the Wrong Direction!!" and explains why you should read it backwards. Based on my review, I give Naruto: Shonen Jump Manga Volume 39, 5 out of 5 stars.
Review by Kassilem
16/06/2015
Naruto has really grown and then he continues to grow, not only physically but now also mentally. He's faced with psychological challenges and has to find which morals and values he stands behind and why. I really really enjoyed his physical achievements but I can just see these psychological changes playing a huge role later on. And it's not just Naruto that grows; everyone does, even the villains. Somehow these books have turned out as a spectacularly gratifying read. I recommend them to anyone who reads Graphic Novels or Epic Fantasy or both, with a added note to get past the first ten or so volumes and watch it be worth it. It is a LOT of volumes, but again, well worth the reads. :)