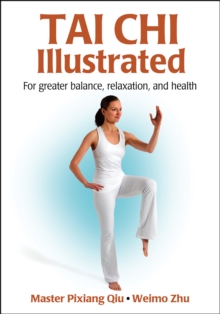 Tai Chi Illustrated
Paperback
Description
This is a comprehensive look at "moving meditation".
Increase muscle strength, improve flexibility and reduce pain and stiffness.
Each year, millions of people worldwide discover the incredible physical and mental benefits of tai chi and with "Tai Chi Illustrated", anyone can.
Internationally renowned instructor Master Pixiang Qiu and mind - body exercise expert Weimo Zhu demonstrate the most effective forms for harnessing the healing power of chi, or energy.
By following their lead, readers can improve balance and coordination, relieve stress and reduce pain and muscle stiffness. "Tai Chi Illustrated" is a step-by-step guide complete with detailed instructions and full-colour photographic sequences for the basic movements and popular forms, such as Grasp Sparrow's Tail and Part the Wild Horse's Mane.
Whether a newcomer to tai chi or an experienced practitioner, "Tai Chi Illustrated" is the guide to the path of better health and self-awareness.
Information
Format: Paperback
Pages: 240 pages, 16 Illustrations, color; 0 Halftones, black and white; 0 Illustrations, black and white;
Publisher: Human Kinetics Publishers
Publication Date: 25/10/2012
Category: Exercise & workout books
ISBN: 9781450401609
Free Home Delivery
on all orders
Pick up orders
from local bookshops
Reviews
Showing 1 - 5 of 6 reviews.
Previous | Next
Review by JSKupperman
16/06/2015
Master Pixiang Qiu and Weimo Zhu's _Tai Chi Illustrated_ is a useful introduction to the practice of taiji for health purposes. As with all of Human Kenetics' books, _Tai Chi Illustrated_ is heavily illustrated with photographs of various practitioners going through the described movements. These help the reader understand the sometimes complex movements found in taiji practice. While that is very helpful there may still be areas that are unclear, as is often the case with described movement. This is especially true for taiji, where the transitioning movements are often as important as what is found in the pictures. This is not a minus for the book but an overall reality when dealing with martial arts in text.The practices found in _Tai Chi Illustrated_ are based on Chan style taiji, which is the most popular of the several different styles. The book is not, however, an introduction to either the Chan short or long forms but to exercise routines based on the Chan style. If you are looking for the complete forms, or for martial applications of the art, you will have to look elsewhere. If, however, you are looking to get into taiji practice without going through forms with over 100 movements, or are interested in specific health benefits related to taiji practice, then _Tai Chi Illustrated_ is an excellent place to begin.
Review by the_darling_copilots
27/08/2015
I received this book for free through the Library Thing Early Reviewer program. It is the most accessible book about tai chi practice that I've seen, very clearly showing poses, chi routes and other aspects of the practice. I suspect that it was clear to me partly because I studied tai chi and qigong for a number of years, so the concepts and movement styles were familiar. However there was enough new here to keep my interest and lead me to try out a few of the short forms. All in all, very nice, but I suspect it could be confusing for newbies.
Review by jrbeach
16/06/2015
I'm happy to have received this book from the early reviewers group. I have a few minor quibles - mostly to do with the translation into English, but overall it is very readable. The illustrations are excellent - really step by step, detailed. If you combine this book with a free you tube video or library dvd you have no need to spend money on a class.
Review by Clara53
16/06/2015
Let's face it, it's not always possible to get to a Tai Chi class or to have personal instruction. That's why books like this one by Master Pixiang Qiu and Weimo Zhu become very essential. "Tai Chi Illustrated" starts with a very informative introduction about Tai Chi as a form of mind-body exercise, which is quite fascinating and yet approachable. The authors go into great detail to explain each and every movement and then combine them into "routines". The reader proceeds from Tai Chi Basics to Tai Chi Forms and then Tai Chi Routines - all of it with pictures of each and every move. This book made me even more eager to supplement my yoga routine with Tai Chi.
Review by wtshehan
16/06/2015
I have been a longtime student of the Martial Arts and as I have gotten older I have had to find ones that accommodate my flexibility and other changes of life. I found this book to be very helpful in getting me up to speed on Tai Chi. I have since taken some classes but refer to the book to help me remember the moves. If you do not have access to classes this book will teach you what you need to know.