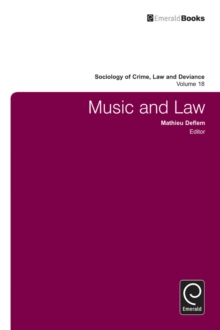 Description
This volume deals with various social-science perspectives on law and legal control pertaining to music in a variety of contexts.
Under influence of important recent social developments, especially in the realm of communications technology, the world of music has been changing very rapidly and profoundly these past decades.
As a result, the world of music, especially popular music, has been subject to a range of new legal issues.
This volume brings together some 15 scholars to contribute their respective chapters on the socio-legal aspects involved in music as a social reality.
The chapters address various pertinent questions from the perspective of socio-legal studies, sociology of law, jurisprudence, and related social and behavioral sciences.
The issues addressed can range from matters of formal law and legislation to law-related behavior, deviance, and informal normative structures and processes that have a relevance to music, whether in a contemporary or historical setting.
Thematically diverse within the province of the social and behavioral sciences related to law, the chapters in this volume are not restricted in terms of theoretical approach and methodological orientation.
Information
Format: Hardback
Pages: 350 pages
Publisher: Emerald Publishing Limited
Publication Date: 11/11/2013
Category: Music recording & reproduction
ISBN: 9781783500369