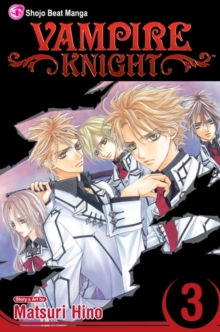 Vampire Knight, Vol. 3
Paperback
Description
Kaname, the pureblood vampire, has kept to his room since learning of Yuki and Zero's forbidden act.
However, the arrival of Ichijo's grandfather brings the entire Night Class together to greet one of the oldest vampires on the senate.
Ichijo's grandfather says he's there merely to visit his grandson, but he's out for Kaname's blood.
Information
Format: Paperback
Pages: 208 pages
Publisher: Viz Media, Subs. of Shogakukan Inc
Publication Date: 01/10/2007
Category: Manga
ISBN: 9781421513249
Free Home Delivery
on all orders
Pick up orders
from local bookshops
Reviews
Showing 1 - 4 of 4 reviews.
Review by Jenson_AKA_DL
16/06/2015
This has been my favorite volume so far! I really enjoyed the history; it makes it much easier to understand the relationship between Yuki and Kaname which I had always kind of wondered about. Now I see why they are so drawn to each other. This volume was worth reading for the one part of seeing Kaname laugh!! Also, Zero gets his first mission as a vampire hunter and a very creepy new exchange student joins the Night Class.In this issue I was a little better about differentiating the various vampires from each other, but they still look a lot alike. Once I had to read the same page three times before realizing that the scene was with Senri and not Kaname. Other than that I think this is a great story for lovers of vampires and horror manga.
Review by nm.spring08.c.cregge
16/06/2015
theres not much to say about a manga. a quick read? though i did enjoy this manga very much. i liked it. every bit of it though there isnt much to reveiw on it. though if you like mangas get this one!
Review by Kassilem
16/06/2015
Hino is still making excellent artwork and an entertaining story. We see more of Kaname in this volume and Yuki as a child in Yuki's multiple flashbacks. Both Zero and Yuki continue to grow as characters, and we meet a few more vampires. There are a few vampire's in the academy that I'm mixing up, but it's not too bothersome, since they don't play huge roles yet. The end of the volume doesn't quite leave us with a cliffhanger, but it does make you want to pull the next book into your lap straightaway. Bring on more, please! :)
Review by vombatiformes
16/06/2015
This volume of Vampire Knight included much more information about the backstory of Kaname and the relationship between he and Yuki, as well as furthering the depth of vampire society, which makes the world seem much richer. I found Kaname's obsession with Yuki really pressing the border between affectionate and creepy. He spends a great deal of this volume utterly depressed because he feels that Yuki has not cared to share her feelings with him the way she used to in the past and it's clear that her involvement with Zero has him feeling insecure. I find all of this flabbergasting with the knowledge of the amount of power he wields not only amongst humans but amongst his own kind, and why he finds the trust and affectionate of Yuki so desirable is lost on me thus far. I find, despite his brooding exterior, that I like Zero more and more as the story progresses, though the relationship between he and Yuki is not any healthier than it is between Yuki and Kaname. Her selflessness in the wake of these honestly two quite threatening (in different ways) vampires is disturbing, as she is continuously used and manipulated by both of them -- often consciously and willingly. I was satisfied to learn more about the culture of vampire hunters within the world of Vampire Knight, and Zero's role within that culture, so I do hope to see more of that in the future. Zero's complicated past and present is enjoyable to read about. So far the only character I've had a hard time tolerating is new student Maria, whose innocent/dangerous personality feels too overdone and predictable.