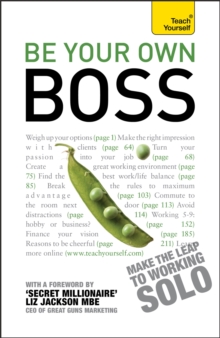 Be Your Own Boss : How to start doing what you love: a guide to being a successful solo enterpreneur
Paperback / softback
Description
Is this the right book for me?From weighing up the pros and cons of jumping ship in the first place to establishing and maintaining a successful solo enterprise, this book is all you need to make the leap to working alone. All aspects of setting up a new business are covered including:- managing resources, time, clients etc. - establishing good working practices and maintaining a desirable work/life balance for those who choose to work from home. - getting the financial aspects right - one of the biggest pitfalls in going it alone. - being a 'five to niner' - building up a business in your spare time while still employed. Practical examples of best (and worst) practices are provided, gleaned from interviews with dozens of people from across the globe who are successful solo workers.
Be your own Boss contains hundreds of relevant examples and genuine, tried and tested tips and practices which really work.
Be Your Own Boss includes:Chapter 1: Weighing optionsChapter 2: Are you cut out to be your own boss?Chapter 3: Staying putChapter 4: Quitting your jobChapter 5: What becoming your own boss actually means - and how to do itChapter 6: Setting up your solo work lifeChapter 7: Effective home workingChapter 8: Accentuating the positives of being your own boss Chapter 9: Maximizing home-office potentialChapter 10: Targets and planningChapter 11: Mobile workingChapter 12: Working 5 to 9Chapter 13: IT for the solo workerChapter 14: Accounting for successful businessChapter 15: Dealing with clientsLearn effortlessly with a new easy-to-read page design and interactive features: Not got much time?One, five and ten-minute introductions to key principles to get you started. Author insightsLots of instant help with common problems and quick tips for success, based on the author's many years of experience. Test yourselfTests in the book and online to keep track of your progress. Extend your knowledgeExtra online articles to give you a richer understanding of the subject. Five things to rememberQuick refreshers to help you remember the key facts. Try thisInnovative exercises illustrate what you've learnt and how to use it.
Information
Format: Paperback / softback
Pages: 288 pages
Publisher: John Murray Press
Publication Date: 28/05/2010
Category: Small businesses & self-employed
ISBN: 9781444111842
Also in the TY Business Skills series