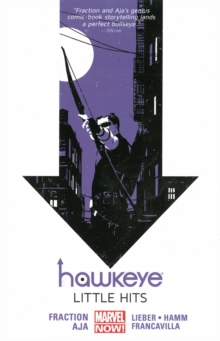 Hawkeye Volume 2: Little Hits (marvel Now)
Paperback
Information
Format: Paperback
Pages: 136 pages, 1 Illustrations, unspecified
Publisher: Marvel Comics
Publication Date: 02/07/2013
Category: Superheroes
ISBN: 9780785165637
Free Home Delivery
on all orders
Pick up orders
from local bookshops
Reviews
Showing 1 - 5 of 11 reviews.
Previous | Next
Review by jshillingford
16/06/2015
One of the things that makes Black Widow and Hawkeye's series so compelling is that neither has "powers." They are ordinary humans with extraordinary skills. This second volume drives that point home as the stories have our hero battling everyday problems in addition to secret missions and superheroics. The book opens with Kate and Clint facing a massive hurricane/superstorm that is threatening the East Coast. What can they do in the face of Mother Nature besides batten down the hatches and try to help their friends as best they can? And then the Russian Mafia returns to cause havoc for Clint both in his building and his love life as a mob wife he saved returns for his help once again. To top it all off, even Tony Stark can't help him untangle the wires for his entertainment system. What's a guy to do?I love this series. Clint Barton is a piping hot mess and it refreshing to see a hero who has to battle everyday life like the rest of us. The stories are irreverent, action-packed and laces with dark humor. Overall, a must-read and highly recommended.
Review by shanaqui
16/06/2015
I love the art of these comics, and Clint's smart mouth, and his weird friendship with Kate Bishop. I loved that one of the issues collected in this TPB was told from the POV of a dog. But I guess I'm revenged on my partner for her not liking Cherie Priest's Bloodshot. It's enjoyable enough to read, but I'm not overcome. The way of telling the story doesn't really jive with me.But I'm totally sold on Natasha being Clint's 'work-wife', and I enjoy that Kate is simply classified as 'Kate'. And hey, Clint being helpless with women in his personal life doesn't fit with my mental image from the MCU continuity, but it promises to be entertaining.
Review by pixiestyx77
16/06/2015
Loving this series. I am a comic/graphic novel fan, but don't tend to read much of the superhero genre. Very much enjoying Hawkeye as a normal person dealing with an abnormal life.
Review by RussianLoveMachine
16/06/2015
Aww, Clint. If life seemed hard in the <EM>first</EM> trade, it's nothing compared to how bad things are about to get. The tracksuit mafia is in a rush to settle their score with him, which means bringing in even more dangerous help from the outside. Help that isn't overly concerned about things like "collateral damage." And did we mention the hurricane barreling down on New York?And then there's "Pizza Is My Business," the final installment of the trade. You'd think having an entire issue narrated by a dog would be funny--even gimmicky at the worst. But the story is full of unexpected emotional impact and might well be the best individual issue of the run.
Review by -Eva-
16/06/2015
Clint Barton (aka Avengers' Hawkeye) saves a friend during Hurricane Sandy, argues with Tony Stark about electronics, battles the tracksuit mafia, and gets himself in trouble with the various women in his life. I actually like this volume a little more than the first one, mainly because it feels the stakes are higher - for everyone - and because Clown (Kazimierz Kazimierczak) is a very creepy villain. The only shame is that David Aja is not doing all the art. For all of that, though, the absolute best part of this volume, though, is Pizza Dog's story "Pizza Is My Business" - Lucky is a great character.