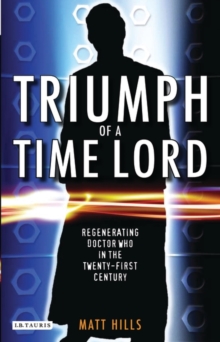 Triumph of a Time Lord : Regenerating "Doctor Who" in the Twenty-first Century
Paperback
Description
Before Saturday March 26th 2005, "Doctor Who" had been off the air as a regular, new TV series for more than fifteen years; until a production team led by Russell T.
Davies re-imagined the programme so successfully, so triumphantly, that it's become an instant Christmas tradition, a BAFTA winner, an international 'superbrand' and a number one rated show.
It's even been credited with reinventing family TV. This is the first full-length book to explore the 'new Who' phenomenon through to the casting of Matt Smith as the new Doctor.
It explores "Doctor Who" through contemporary debates in TV Studies about quality TV and how can we define TV series as both 'cult' and 'mainstream'.
Further, the book challenges assumptions in focusing on the importance of breath-taking, dramatic moments along with narrative structures, and in analysing the significance of Murray Gold's music as well as the series' visual representations.
Matt Hills is a lifelong "Who" fan and he also considers the role of fandom in the show's return.
He investigates too the multi-generic identity, the monster-led format, and the time-travelling brand of BBC Wales' 'Doctor Who'. In the twenty-first century, TV is changing, but the last of the Time Lords has been more than ready: he's been fantastic.
Information
Format: Paperback
Pages: 272 pages, 15 integrated black and white illustrations
Publisher: I.B.Tauris & Co Ltd.
Publication Date: 30/01/2010
Category: Television
ISBN: 9781848850323
Free Home Delivery
on all orders
Pick up orders
from local bookshops
Reviews
Showing 1 - 1 of 1 reviews.
Review by elwyne
16/06/2015
Well I'm not really a media geek, so I didn't understand a lot of what the author was saying. Nevertheless I enjoyed the discussion and insight, especially about Russell T Davies, Murray Gold, and the cult/mainstream distinction (or lack thereof). The uses of music and monsters, and the multi-generic nature of the show, were ideas which hadn't occurred to me and were worth thinking about.I think reading this helped me to distinguish some of what it is about the show that appeals to me. I love the big, rousing adventure music. I love the inclusiveness of new Who: a few fun crumbs for the geeks but nothing that makes a newcomer feel left out. I enjoy the emotional stories but only up to a point; my least favorite episode is one in which I think they took the "soap drama" element too far ("42"). I love action/adventure and sci-fi, but I also love that the show stays relevant to humans on Earth rather than going too sci-fi and dealing with planets and cultures no one cares about. I love that it's optimistic.I don't think I'd recommend this book to every single Who fan, but definitely to those with some interest in television and media theory.