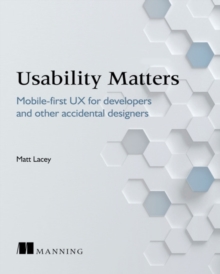 Usability Matters : Mobile-first UX for developers and other accidental designers
Paperback / softback
Description
Mobile apps are a big part of people's lives, with apps for just aboutanything.
An app's UX can help it stand out and be the key to itssuccess.
But often, developers find UX intimidating and don't knowwhere to begin. Usability Matters gives app developers practical advice and guidanceon how to improve the UX of their mobile apps on any platform.
Afterthey read this book from cover to cover, they'll find themselvesreaching for it again and again as a reference each time they develop anew app. * Practical advice and guidance* Provides theory and background on the technology* Hands-on teachingThis book is for anyone who is developing an app and wants to create agreat user experience, regardless of mobile platform. ABOUT THE TECHNOLOGYThe user experience (UX) of an app can be key to its success but isoften something that developers don't know how to approach or isconsidered a part of design that is intimidating and overlooked. AUTHOR BIOMatt Lacey has been creating apps for mobile devices since 2001.
He iscurrently working as an independent mobile development consultant, helpingcompanies of all sizes with strategy, planning and implementation of mobiledevelopment solutions.
Matt is a community leader and Microsoft MVP whoorganizes user group meetings to help people learn to create better apps.
Free Home Delivery
on all orders
Pick up orders
from local bookshops