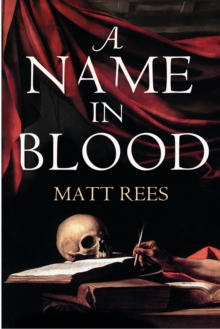 Description
Italy, 1605: For the ruling Borghese family, Rome is a place of grand palazzos and frescoed cathedrals.
For the lowly artist Caravaggio, it is a place of rough bars, knife fights, and grubby whores.
Until he is commissioned to paint the Pope... Soon, Caravaggio has gained entry into the Borgia family's inner circle, and becomes the most celebrated artist in Rome.
But when he falls for Lena, a low-born fruit-seller, and paints her into his Madonna series as a simple peasant woman, Italian society is outraged.
Discredited as an artist, but unwilling to retract his vision of the woman he loves, Caravaggio is forced into a duel - and murders a nobleman. Even his powerful patrons cannot protect him from a death sentence.
So Caravaggio flees to Malta, where, before he can be pardoned, he must undergo the rigorous training of the Knights of Malta.
His paintings continue to speak of his love for Lena.
But before he can return to her, as a Knight and a noble, Caravaggio, the most famous artist in Italy - simply disappears...
Information
Format: Hardback
Pages: 304 pages
Publisher: Atlantic Books
Publication Date: 01/07/2012
Category: Crime & mystery
ISBN: 9781848879195
Other Formats
Paperback from £6.49
EPUB from £2.39
Free Home Delivery
on all orders
Pick up orders
from local bookshops
Reviews
Showing 1 - 1 of 1 reviews.
Review by Judiex
16/06/2015
WARNING: To get the most from this book have internet access nearby so you can look at the two dozen Caravaggio paintings mentioned as you read about them. You may also find yourself heading to the closest museum with an original Caravaggio to see it with new eyes.The title, A NAME IN BLOOD, is perfect for this book. It represents Caravaggio's life as well as his masterpieces.After the death of his father and grandfather in Caravaggio in 1577, Michaelangelo Merisi was taken in by the Colonna family, one of wealth and standing in Carravaggio. He and the youngest son, Fabrizio, were very close. The mother, The Marchesa, Costanza, became his protector. When the time came for him to leave, she sent him to Milan to study art. Known as Caravaggio, he became the most important painter of his time though, as is often the case, his full genius wasn't recognized until after his death..Society had strong divisions between the classes although upper class men and Church leaders frequently intermingled with prostitutes when it suited the men. Caravaggio, however, was assailed for his use of prostitutes as models for many of the women in his paintings, particularly when they and other lower class women posed for major religious figures. The upper, protected classes could cheat and get away with murder. However, someone harming one of them, even in self-defense, could be executed. Caravaggio escaped from Rome to Malta to save his own life after he had a peasant woman, whom he loved, pose for the Madonna and was forced into a duel as a result. Later, while speaking with Fabrizio, who had also fled after he killed a man, Fabrizio asked, "It seems sometimes a greater death to have survived my duels than to have been the loser....Do you ever feel as though all your freedom and happiness expired with him?Caravaggio disappeared on his way from Naples to Rome in 1610. His body was never found.Caravaggio brought a new sense of realism into his paintings. Most of his subjects were religious figures – the Catholic Church and members of its hierarchy were his primary sponsors."Paint a canvas that doesn't conform to the Cardinal-Nephew's idea of the order of the world and an artist might forfeit more than his commission. It would be the fire for him." He utilized shadows and avoided the popular perspective of the subjects looking adoringly toward Heaven or the holy subjects. His agonizing, at times, subjects displayed honest emotion, often in the throes of death. "Shadows revealed things at their clearest. A man's face in the daylight was full of detail. One might spend hours reading what it had to say to you and understand nothing. In the darkness of the tavern, you detected no more than a malevolent glimmer of an eye, or the sudden vicious baring of a tooth. The shadows distilled a man to his basic wickedness – or to the sufferings most worthy of our compassion."At one point, Caravaggio's friend, Onorio Longhi, an architect, asked, "Can a painting have a soul? Can the churches I design bring salvation? When an artist draws, does he create something holy in his own mind?" The answer to that runs through the story of Caravaggio's paintings.When I first saw "David Holding the Head of Goliath," I marveled at the three-dimensionality as David's arm reached out with Goliath's head in front of it. Matt Rees explained how Caravaggio accomplished that as well as other of his painting techniques.A NAME IN BLOOD is a well-written, well researched introduction to Caravaggio, the genius with a temper and sense of justice, his masterpieces, and the times in which he lived. My only complaint is that I would have appreciated more detail about both his life and paintings. Much of it was the repetition of same experiences in different circumstances didn't give him as much depth as I would have liked. I'm grateful that Matt Rees has so many interests (Mozart, Palestinians, Israelis) and the ability to tell their stories so well through all of his writings. I wonder where he will take us next time.