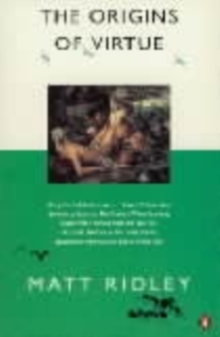 The Origins of Virtue
Paperback
Description
Why are people nice to each other? What are the reasons for altrusim? Matt Ridley explains how the human mind has evolved a special instinct for social exchange, offering a lucid and persuasive argument about the paradox of human benevolence.
Information
Format: Paperback
Pages: 304 pages
Publisher: Penguin Books Ltd
Publication Date: 30/10/1997
Category: Society & culture: general
ISBN: 9780140244045
Free Home Delivery
on all orders
Pick up orders
from local bookshops
Reviews
Showing 1 - 4 of 4 reviews.
Review by bduguid
16/06/2015
I really enjoyed this book. Ridley's aim is to answer an old question - "how is society possible?" - largely from the context of evolutionary biology.For much of the book, his quest is to explain altruism - if our instincts have evolved to maximise the chances of our genes reproducing, then why should we care about strangers?He starts with the genes themselves - each genome a cooperative society of individual genes, each individually 'selfish' but equally reliant on their neighbours for their survival. This introduces a theme that runs throughout the book - the division of labour - and gives some idea of why the book spends as much time discussing economics as biology.There's plenty here on game theory and its use to derive theories of altruism (reciprocity and others). I was surprised at how far beyond biology Ridley treads, with chapters on tribalism, war, trade and property, for example. The book begins by looking at Kropotkin's (flawed) theory of Mutual Aid, which sought to use animal behaviour to demonstrate that we are naturally altruistic, attempting to employ science to make a political point. By the end, this theory has been long dismissed, but Ridley bravely returns to similar territory. Having shown (and speculated) how biology and evolution can in fact lead to altruistic (or at least cooperative) behaviour, he draws the lessons for real-world politics.I found this a great way to end - in an era where politicians seem as keen as ever to meddle in science, it's good to see that science can hold lessons for politics too, and good to see a science journalist unafraid to draw those lessons.
Review by miketroll
16/06/2015
A modern classic. Darwinian evolution is often misunderstood as a bleak doctrine of nature red in tooth and claw, in which altruism, compassion and kindness play no part. Matt Ridley's brilliantly lucid book explains how social co-operation and trust between individuals can and do evolve naturally. Helping others really can be good for the survival of your selfish genes!Read it – it's fascinating!
Review by Noisy
16/06/2015
This book is like being run over by a steam-roller. It's a very polite steam-roller that goes forward; then backs off a bit and says sorry before trundling forward further than it went last time. And its roller is covered in cashmere, so the steel of the meaning feels softer because of the gentleness of the language. At the end, of course, you have been considerably transformed in your outlook (that reminds me, I must read 'Flatland' sometime), but it's hard to pin down exactly what it was that you were like before, but aren't now. I think the proof will come when I hear someone blathering on about how human nature is purely formed by society, and I spot it for the utter bollocks that it is. Suffice to say that I delighted in this book.
Review by mbmackay
27/01/2016
Argues that the selfish gene can lead to a virtuous & cooperative citizen. Interesting stuff.Read Samoa Nov 2003