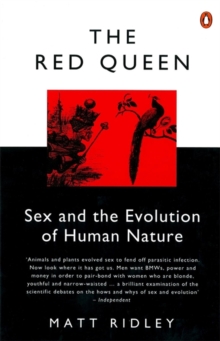 The Red Queen : Sex and the Evolution of Human Nature
Paperback
Description
Sex is as fascinating to scientists as it is to the rest of us.
A vast pool of knowledge, therefore, has been gleaned from research into the nature of sex, from the contentious problem of why the wasteful reproductive process exists at all, to how individuals choose their mates and what traits they find attractive.
This fascinating book explores those findings, and their implications for the sexual behaviour of our own species.
It uses the Red Queen from `Alice in Wonderland' - who has to run at full speed to stay where she is - as a metaphor for a whole range of sexual behaviours.
The book was shortlisted for the 1994 Rhone-Poulenc Prize for Science Books.`Animals and plants evolved sex to fend off parasitic infection.
Now look where it has got us. Men want BMWs, power and money in order to pair-bond with women who are blonde, youthful and narrow-waisted ... a brilliant examination of the scientific debates on the hows and whys of sex and evolution' Independent.
Information
Format: Paperback
Pages: 416 pages
Publisher: Penguin Books Ltd
Publication Date: 01/10/1994
Category: Society & culture: general
ISBN: 9780140167726
Free Home Delivery
on all orders
Pick up orders
from local bookshops
Reviews
Showing 1 - 2 of 2 reviews.
Review by kushami
16/06/2015
Although this is a well-written, interesting book, I couldn't help feeling that it was covering some familiar ground -- you may feel the same way if you have read a lot of Steven Pinker and Richard Dawkins. I enjoyed another of Matt Ridley's books, Genome, immensely, probably because much of it was new to me.
Review by psiloiordinary
16/06/2015
An eloquent exposition of the known facts and the then currently likely explanations for them. Written in 1993 but still a great overview. I am no expert on the subject but do follow it, and I think that nearly all of his content stands up today. Part of the reason for this is his wonderful habit of not just giving the summary but looking into to hows and whys of the conclusion the scientists have come to. I find the very concept of the books title to be a deceptive one. At first glance you think, "hey that's clever, what a fascinating glimpse into a rather strange set of circumstances that bring out such an effect". By the time you are half way through the book you begin to realise that in fact this quirky little twist on the game of life is almost all pervasive and you are surrounded.By the end of the book you have a new lens through which to view the world. Not many books do this, and hardly any of them do it using reality and logical thought, so this must be a keeper.So ignore the various political pot shots taken at him (I speak as one who would happily cheer the mob onwards) and enjoy the quality of the writing and the fact you now have another way to think about the world.