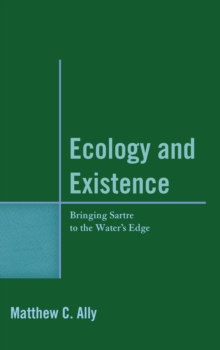 Ecology and Existence : Bringing Sartre to the Water's Edge
Hardback
Description
This study explores the increasingly troubled relationship between humankind and the Earth, with the help of a simple example and a complicated interlocutor.
The example is a pond, which, it turns out, is not so simple as it seems.
The interlocutor is Jean-Paul Sartre, novelist, playwright, biographer, philosopher, and, despite his several disavowals, doyen of twentieth-century existentialism.
Standing with the great humanist at the edge of the pond, the author examines contemporary experience in the light of several familiar conceptual pairs: nature and culture, fact and value, reality and imagination, human and nonhuman, society and ecology, Earth and world.
The theoretical challenge is to reveal the critical complementarity and experiential unity of this family of ideas.
The practical task is to discern the heuristic implications of this lived unity-in-diversity in these times of social and ecological crisis.
Interdisciplinary in its aspirations, the study draws upon recent developments in biology and ecology, complexity science and systems theory, ecological and Marxist economics, and environmental history.
Comprehensive in its engagement of Sartre's oeuvre, the study builds upon his best-known existentialist writings, and also his critique of colonialism, voluminous ethical writings, early studies of the imaginary, and mature dialectical philosophy.
In addition to overviews of Sartre's distinctive inflections of phenomenology and dialectics and his unique theories of praxis and imagination, the study also articulates for the first time Sartre's incipient philosophical ecology.
In keeping with Sartre's lifelong commitment to freedom and liberation, the study concludes with a programmatic look at the relative merits of pragmatist, prefigurative, and revolutionary activism within the burgeoning global struggle for social and ecological justice.
We learn much by thinking with Sartre at the water's edge: surprising lessons about our changing humanity and how we have come to where we are; timely lessons about the shifting relation between us and the broader community of life to which we belong; difficult lessons about our brutal degradation of the planetary system upon which life depends; and auspicious lessons, too, about a participatory path forward as we work to preserve a habitable planet and build a livable world for all earthlings.
Information
Format: Hardback
Pages: 562 pages
Publisher: Lexington Books
Publication Date: 20/07/2017
Category: Phenomenology & Existentialism
ISBN: 9780739182888
Other Formats
Paperback / softback from £30.05
EPUB from £135.00
Free Home Delivery
on all orders
Pick up orders
from local bookshops
Also by Matthew C. Ally