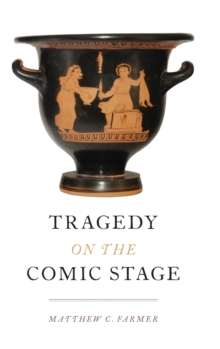 Tragedy on the Comic Stage
Hardback
Description
Aristophanes' engagement with tragedy is one of the most striking features of his comedies: Euripides appears repeatedly as a character in these plays, jokes about tragedy and tragic poets abound, and parodies of tragedy frequently underlie whole scenes and even the plots of these plays.
Tragedy on the Comic Stage contextualizes this engagement with tragedy within Greek comedy as a genre by examining paratragedy in the fragments of Aristophanes'contemporaries and successors in the fifth and fourth centuries.
Farmer organizes these fragments under two rubrics. First, he discusses fragments that show characters discussing tragedy, use tragic poets as characters, or make reference to the dramatic festivals; these fragments, Farmer argues, develop a "culture oftragedy" within Greek comedy, a consistent set of tropes and devices that depict tragedy as part of the world inhabited by the characters of these plays.
Second, he assembles fragments that show tragic parody, imitations of tragedy that render tragic language humorous or ironic by juxtaposing it with the base characters and quotidian circumstances that make up Greek comedy.
Tragedy on the Comic Stage then illustrates these features of fragmentary paratragedy within three intact Aristophaniccomedies: Wasps, Women at the Thesmophoria, and Wealth.
These new readings of Aristophanes' plays show the value of reading Aristophanes in conjunction with the comic fragments, and insist on the subtlety and complexity of Aristophanic paratragedy.
Information
Format: Hardback
Pages: 288 pages
Publisher: Oxford University Press Inc
Publication Date: 09/02/2017
ISBN: 9780190492076