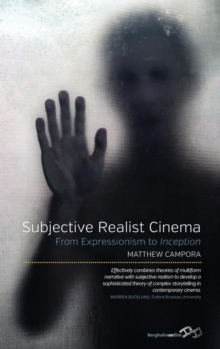 Subjective Realist Cinema : From Expressionism to <i>Inception</i>
Hardback
Description
From the German expressionist movement to contemporary Hollywood, many different cinematic techniques have been used to represent the subjective experience of characters on the screen.
Subjective Realist Cinema looks at the fragmented narratives and multiple realities of a wide range of films that depict subjective experience and employ "subjective realist" narration, including recent examples such as Mulholland Drive, Memento, and Eternal Sunshine of the Spotless Mind.
The author proposes that an understanding of the narrative structures of these films, particularly their use of mixed and multiple realities, enhances viewers' enjoyment and comprehension of such films, and that such comprehension offers a key to understanding contemporary filmmaking.
Information
Format: Hardback
Pages: 160 pages
Publisher: Berghahn Books
Publication Date: 01/04/2014
Category: Film theory & criticism
ISBN: 9781782382782