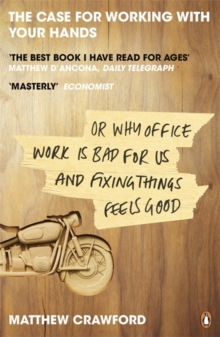 The Case for Working with Your Hands : Or Why Office Work is Bad for Us and Fixing Things Feels Good
Paperback
Description
It's time to rethink our attitudes to work.For too long we have convinced ourselves that the only jobs worth doing involve sitting at a desk.
Generations of school-leavers head for university lacking the skills to fix or even understand the most basic technology. And yet many of us are not suited to office life, while skilled manual work provides one of the few and most rewarding paths to a secure living.Drawing on the work of our greatest thinkers, from Aristotle to Heidegger, from Karl Marx to Iris Murdoch, as well as on his own experiences as an electrician and motorcycle mechanic, Matthew Crawford's irreverent and inspiring manifesto will change the way you think about work forever.
Information
Format: Paperback
Pages: 256 pages, 4 b/w line drawings
Publisher: Penguin Books Ltd
Publication Date: 16/12/2010
Category: Occupational & industrial psychology
ISBN: 9780141047294
Free Home Delivery
on all orders
Pick up orders
from local bookshops
Reviews
Showing 1 - 2 of 2 reviews.
Review by gbsallery
16/06/2015
This is not a successor to Zen and the Art of Motorcycle Maintenance, but draws heavily upon it and updates some of the themes. At times, it feels a little too much a plea for craft-focused elitism, but the book does articulate some useful ideas about the relationship between work and intrinsic value. Also, the anecdote about spinning a bearing whilst drying it with compressed air makes me doubt the degree of "machine empathy" actually present in the author (in that it was clearly a daft thing to do, but was presented as a mystical exercise).
Review by Speesh
16/06/2015
Disappointing.<br/>The premise is a good one, and it began well, and interestingly. But as you read on, you realise, as he seems to do as well, that there isn't really a lot more to say, than he's already said in the book's title.<br/>There are interesting little passages dotted about the book, and whilst arguing for the book's main premise, he manages to remain objectively detached. Perhaps a little too detached, because some irrational passion might have enlivened things somewhat.<br/>As a book, it would be better suited as an essay (which it may well have begun life as), or as what I believe used to be called in the old days; 'a pamphlet'.<br/>Someone must have told him 'that'd make a good book', but it doesn't. Not for me anyway.