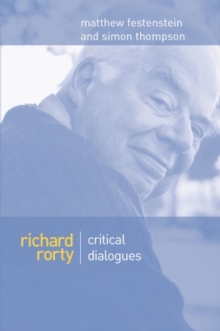 Richard Rorty : Critical Dialogues
Hardback
Description
Richard Rorty is one of the most influential and provocative figures in contemporary intellectual life.
He argues that many of philosophya s traditional concerns are redundant, and that the goal of inquiry should not be truth but human betterment.
In this collection a distinguished team of scholars grapples with the implications of his writings for social and political thought.
Avoiding mindless adulation or ritual denunciation, they offer careful but critical investigations of the meaning of Rortya s work for a range of important issues.
Topics explored include anti--foundationalism; irony and commitment; justice; liberalism and utopianism; reason and aesthetics; humanism and anti--humanism; the Holocaust; the theory of international relations; social democracy and the pragmatist tradition.
Each essay is followed by a reply written for this volume by Rorty.
The volume also includes a substantial essay by Rorty on a Justice as a Larger Loyaltya .
This volume is indispensable for any reader interested in Rortya s work, or in contemporary debates in social, political or ethical theory. Contributors: Molly Cochran; Daniel Conway; Matthew Festenstein; Norman Geras; John Horton; David Owen; Richard Rorty; Kate Soper; Simon Thompson.
Free Home Delivery
on all orders
Pick up orders
from local bookshops