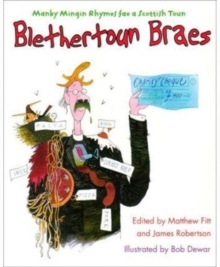 Blethertoun Braes : More Manky Minging Rhymes in Scots
Paperback
Description
My name is Colonel Swithering-Gitt, I'm the local laird and a bit of a twit.
I don't speak Scots, I'm far too posh, But my butler does - his name's McCosh.
He says, 'Wid ye like some fish tae yer tea?' And he purs me drams as big as the sea.
He's a jolly nice chap but, once in a while, He says to me with a sickly smile: 'Ye couldnae survive a day withoot me - Ye'd hae nae whisky and ye'd hae nae tea.
Ye couldnae shave yer rosy reid cheeks, And holes wid appear in yer socks in yer breeks. 'In fact,' he says, 'ye couldnae be posh If it wisna for trusty auld Cut-Throat McCosh!' A follow-up to the highly successful King o the Midden, Oor Toun is another book of manky, mingin rhymes in Scots, humorously illustrated in full colour by Bob Dewar.
This time the poems focus on an anonymous town, somewhere in Scotland, which bairns will recognise - at least in part - as their ain toun.
It is the home of daft, delinquent and disgusting characters, not unlike some of the characters that filled the pages of King o the Midden. Feartie policemen, bloodthirsty butchers, scabby weans and demented dugs populate Oor Toun, making its streets unsafe to walk down if you're a po-faced bore without a funny bone in your body.
Oor Toun is full of mingin fun but it is also an educational tool which young readers can use as a model for creating rhymes and poems that really are about their toun.
Information
Format: Paperback
Pages: 48 pages, colour illustrations
Publisher: Black and White Publishing
Publication Date: 25/10/2004
Category: Poetry
ISBN: 9781845020231
Free Home Delivery
on all orders
Pick up orders
from local bookshops