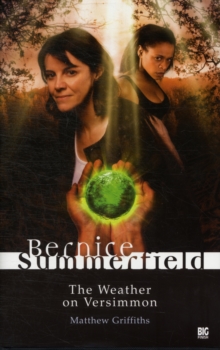 The Weather on Versimmon
Hardback
Description
When Bernice Summerfield awoke from stasis, she found a message waiting: an instruction from a very old acquaintance, telling her to make her away to a planet called Legion... and to her son, Peter. As she begins her intergalactic road trip through the cosmos, Bernice quickly learns that her journey won't be easy.
Family feuds, noxious nuns and lethal leisure worlds are set to hound her every step of the way, whilst old friends are ready and waiting for her arrival...
Old lives are abandoned. New lives lie in store...with many others hanging in the balance. * * * Bernice - or Benny to her friends - is on the ultimate road trip, scouring the universe in search of her missing son, Peter.
Along the way, she stops off on the planet Versimmon, where she is soon drawn into an expedition investigating the legendary Caldera Archive.
The Archive is a series of tapestries and artworks grown into the ground, cultivated from the giant trees in the Versimmon Forests... and seemingly influenced by the planet's weather conditions.
The trouble is that the artworks aren't just tree roots: they are part and parcel of the entire ecosystem of the planet.
The trees and everything around them are alive, for now... but unscrupulous politicians are looking for ways to butcher the forests and exploit their DNA, all so that they might recreate the artworks again and again, selling them on to the highest bidder. And all at the expense of every single life-form on Versimmon.
Now Benny and her friends have to find a way to save the Versimmon ecosystem and preserve one of the galaxy's hidden treasures... but a storm's already brewing in the Versimmon sky. This book is published by Big Finish Productions, Ltd. and distributed by Untreed Reads Publishing.
Information
Format: Hardback
Publisher: Big Finish Productions Ltd
Publication Date: 29/02/2012
Category: Science fiction
ISBN: 9781844356188
Free Home Delivery
on all orders
Pick up orders
from local bookshops
Also in the Bernice Summerfield series | View all