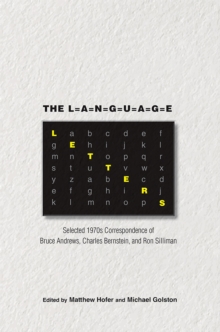 The Language Letters : Selected 1970s Correspondence of Bruce Andrews, Charles Bernstein, and Ron Silliman
Hardback
Description
Bruce Andrews and Charles Bernstein released the first issue of the poetics newsletter L=A=N=G=U=A=G=E in 1978, launching language-centered writing.
The Language Letters reveals Language poetry in its nascent stage, with letters written by Andrews, Bernstein, Ron Silliman, and others in intense and intimate conversation regarding poetry and poetics; the contemporary poetry and arts scenes; publication venues, journals, and magazines; and issues of community, camaraderie, and friendship.
The editors have included two critical introductions, two interviews with Bernstein and Andrews, and appendices that include a previously unpublished essay on Larry Eigner by Robert Grenier and short biographies of the major authors.
Written between 1970 and 1978, these letters detail the development of the concepts and styles that came to define one of the most influential movements in post-1960s writing.
Scholars, writers, and students of poetry will find this collection essential to understanding this important period of literary history.
Information
Format: Hardback
Pages: 336 pages
Publisher: University of New Mexico Press
Publication Date: 30/06/2019
Category: Diaries, letters & journals
ISBN: 9780826360656
Also in the Recencies Series: Research and Recovery in Twentieth-Century American Poetics series | View all