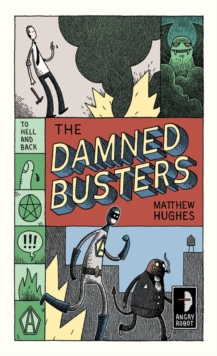 The Damned Busters
Paperback
Description
A hilariously demonic romp through Hell and Back. When mild-mannered actuary Chesney Artstruther accidentally summons a demon and refuses to sell his soul, Hell goes on strike - but with no demons to tempt mankind, the world slows down.
No temptation means no ambition, and no drive - the world's manufacturing and agriculture suffers, and something must be done!
Chesney agrees to help, but in return he wants to be a superhero with a demonic sidekick!
Information
Format: Paperback
Pages: 349 pages
Publisher: Watkins Media
Publication Date: 01/05/2011
Category: Fantasy
ISBN: 9780857661029
Free Home Delivery
on all orders
Pick up orders
from local bookshops
Reviews
Showing 1 - 1 of 1 reviews.
Review by fiverivers
16/06/2015
It's hard to make me laugh. Call it a personal failing. But it's true. While other people gasp for air in a fit of jocularity, I'm merely smiling, wondering about the depth of the humour involved. <i>The Damned Busters: To Hell and Back,</i> by Matthew Hughes, is the first time since reading Terry Fallis' <i>The Best Laid Plans,</i> I actually burst into laughter while reading a book. The title alone was enough to pique my curiosity – an intriguing play on the 1955 British film about WWII RAF dam bombers.Hughes' delivery is dry, unexpected, often with a remarkable turn of phrase. At first I thought I'd be reading a more accessible variation on Rushdie's theme in <i>The Satanic Verses.</i> And while there are similarities by way of the timeless opposition of the divine and profane, Hughes' story is utterly unpretentious, and consistently, deliciously, irreverent. Because of that there were moments I was reminded of some of the famous scenes from Monty Python's Flying Circus. And then again, moments of Douglas Adams' whacky, surreal scenarios.Past the first few chapters my opinion changed again, so that I thought I was reading a graphic novel minus the graphics. But the writing is so tight, and the character development so strong, even original, that the stereotypes of the superhero paradigm vanished. We're presented with a socially deficient actuary, in fact a very Canadian hero in that he doesn't consider himself heroic, nor necessarily does he do heroic deeds. He simply wants to aid in the pursuit of justice, a justice tempered with compassion and a bumbling, admirable, loveable naiveté that lands him in an unusual deal with the Devil and a strike in Hell, while Himself Above rewrites the epic saga known to mere mortals as Life. As our hero's slippery sidekick we're dished up a Cagney-esque, stogey-sucking, rum-guzzling demon that breaks most archetypal standards.In the climax of all this zany narrative one is again reminded of classic literature in a scene that easily parallels Hades' abduction of Persephone. But in what appears to be quintessential Hughes facility, he turns that parallel into something completely unique so that we're left with an original, satisfying denouement and conclusion. <i>The Damned Busters</i> should definitely find its way to your bookshelf or eReader if you're craving an entertaining and engaging bit of escapist literature.
Also in the Angry Robot series | View all