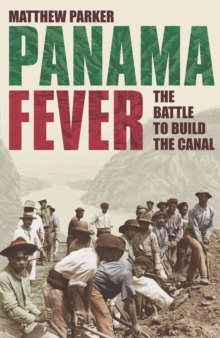 Panama Fever : The Battle to Build the Canal
Hardback
Description
"Panama Fever" traces a heroic dream that spanned four centuries: to build a canal linking the Atlantic and Pacific oceans.
The human cost was immense: in appalling working conditions and amid epidemics of fever, tens of thousands perished fighting the jungle, swamps and mountains of Panama, a scale of attrition comparable to many great battles.
This is a remarkable book about empire and technology.
Starting as a story of European Victorian confidence and hubris, it develops, via one of history's greatest engineering disasters, into an account of America's ruthless triumph over vast obstacles as it moves forward to dominate the twentieth century.
Matthew Parker explores the fierce geo-political struggle behind the heroic vision of the canal, and the immense engineering and medical battles that were fought.
But he also weaves in the stories of the ordinary men and women who worked on the canal, to evoke everyday life on the construction and depict the battle on the ground deep in 'Hell's Gorge'. Using diaries, memoirs, contemporary newspapers and previously unseen private letters, he draws a vivid picture of the heart-breaking struggle on the Isthmus, in particular that of the British West Indians who made up the majority of the canal workforce. "Panama Fever" is a tale of politics, finance, press manipulation, scandal and intrigue, populated by a dazzling cast of idealists and bullies, heroes and conmen.
But it is also a moving tribute to the 'Forgotten Silvermen', so many of whom died to fulfil the centuries-old canal dream.
Information
Format: Hardback
Pages: 464 pages
Publisher: Cornerstone
Publication Date: 01/03/2007
Category: History of the Americas
ISBN: 9780091797041
Free Home Delivery
on all orders
Pick up orders
from local bookshops