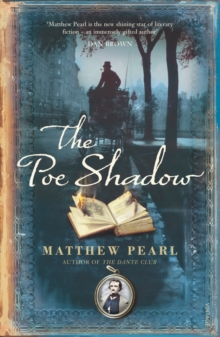 Description
Baltimore, 1849. The body of Edgar Allan Poe has been buried in an unmarked grave.
The conclusion that Poe was a second-rate writer who died a drunkard is accepted by all.
But none of this deters Quentin Clark, an ardent admirer who risks his own career and reputation in a passionate crusade to salvage Poe's. Clark discovers that Poe's last days are riddled with vital unanswered questions.
But just when Poe's death looks destined to remain a mystery, Quentin seeks out the one person who can solve this strange case: the real-life model for Poe's brilliant fictional detective character, C.
Auguste Dupin. Having successfully recruited the man he believes to have inspired Poe's Dupin, Clarke is confronted by another claiming to be the true model.
The two master detectives each seek to prove he is the real 'Dupin' by solving the mystery of Poe's death.
Clark finds himself enmeshed in sinister machinations involving international political agents, a female assassin, the corrupt Baltimore slave trade and the lost secrets of Poe's final hours.
With his own future hanging in the balance, he must turn master investigator himself to unchain his now imperilled fate from that of Poe.
Information
Format: Paperback
Pages: 384 pages
Publisher: Vintage Publishing
Publication Date: 01/01/2007
Category: Crime & mystery
ISBN: 9780099478225
Other Formats
eAudiobook MP3 from £15.08
EPUB from £2.99
Free Home Delivery
on all orders
Pick up orders
from local bookshops
Reviews
Showing 1 - 5 of 5 reviews.
Review by hotchk155
16/06/2015
Following the death of Edgar Allan Poe, lawyer Quentin Clark comes to believe it his duty to explain the mysterious circumstances of Poe's death and prove that he had not, as was widely thought, fallen foul of the demon alcohol.Becoming convinced that he must track down "The Real Dupin" (Poe's French detective mastermind) in order to solve the mystery, Clark sets off to Paris and things start to get rather complicated.This is a convincing period piece, written in a 19th century styley and effortlessly mixing historical fact and fiction. There is a nice development of the central character, Clark, from a naiive, head-in-the-clouds rich kid with an easy life to focused and resourceful hero with everything to lose.An entertaining and absorbing read, if a little bit on the long side. The ending is a little bit of an anticlimax, when the 'mystery' is solved and turns out to be rather unmysterious after all.
Review by Rubbah
16/06/2015
The Poe shadow is basically about a man trying to clear his favourite author's bad name by hiring a man he believes Poe's fictional detective(Dupin) is based on. As the reviewers before me have pointed out, Pearl has done everything he can to make it factually correct in every aspect. Whilst some of it is intesting to know, a lot of it seems pointless and we are told the same details over and over again. It took me a long time to start enjoying the book and it does pick up in the last 150 or so pages so only buy if you are prepared to force yourself to keep going.
Review by riverwillow
16/06/2015
An intruiging and interesting read.
Review by tinfoilspider
16/06/2015
Wasnt sure about this to start as Iv not read the dante club but have an interest in poe. It was well written with plenty of facts and an intrigueing plotline. My only problem with the book was there were a few places where it seemed a struggle to get through it. It does take some concentration in parts to keep up with all the data that is being said but it was still very enjoyable
Review by tinfoilspider13
16/06/2015
Wasnt sure about this to start as Iv not read the dante club but have an interest in poe. It was well written with plenty of facts and an intrigueing plotline. My only problem with the book was there were a few places where it seemed a struggle to get through it. It does take some concentration in parts to keep up with all the data that is being said but it was still very enjoyable