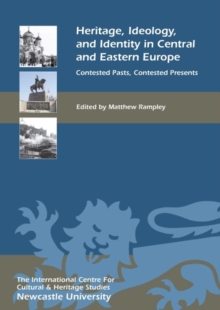 Heritage, Ideology, and Identity in Central and - Contested Pasts, Contested Presents
Hardback
Description
The preservation of architectural monuments has played a key role in the formation of national identities from the nineteenth century to the present.
The task of maintaining the collective memories and ideas of a shared heritage often focused on the historic built environment as the most visible sign of a link with the past.
The meaning of such monuments and sites has, however, often been the subject of keen dispute: whose heritage is being commemorated, by whom and for whom?
The answers to such questions are not always straightforward, particularly in Central and Eastern Europe, the recent history of which has been characterized by territorial disputes, the large-scale movement of peoples, and cultural dispossession.
This volume considers the dilemmas presented by the recent and complex histories of European states such as Germany, Greece, Poland, Hungary, Romania and Bulgaria.
Examining the effect of the destruction of buildings by war, the loss of territories, or the "unwanted" built heritage of the Communist and Nazi regimes, the contributors examine how architectural and urban sites have been created, destroyed, or transformed, in the attempt to make visible a national heritage. Matthew Rampley is Professor of History of Art at the University of Birmingham. Contributors: Matthew Rampley, Juliet Kinchin, Paul Stirton, Susanne Jaeger, Arnold Bartetzky, Jacek Friedrich, Tania Vladova, George Karatzas, Riitta Oittinen
Information
Format: Hardback
Pages: 216 pages
Publisher: Boydell & Brewer Ltd
Publication Date: 15/03/2013
Category: History of architecture
ISBN: 9781843837060