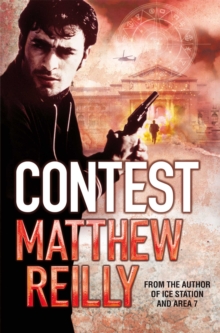 Description
The New York State Library looms as a silent sanctuary of knowledge: a hundred-year-old labyrinth of towering bookcases, narrow aisles, and spiral staircases.
But for Dr Stephen Swain and his eight-year-old daughter Holly it is a place of nightmare. Because, for just one night, this historic building is to become the venue for a horrifying contest, a contest in which Swain must compete, whether he likes it or not.
The rules of the challenge are simple: seven contestants will enter, but only one will leave.
With his daughter in his arms, Stephen Swain is plunged into a terrifying fight for survival.
The stakes are high, the odds are brutal. He can choose to run, to hide, or to fight - but if he wants to live, he needs to win.
For, in this particular contest, unless you leave as victor, you do not leave at all.
Information
Format: Paperback
Pages: 512 pages
Publisher: Pan Macmillan
Publication Date: 01/12/2009
Category: Thriller / suspense
ISBN: 9780330513425
Free Home Delivery
on all orders
Pick up orders
from local bookshops
Reviews
Showing 1 - 1 of 1 reviews.
Review by Shimmin
16/06/2015
This was part of an elimination-style book club, and did surprisingly well because it does its thing and doesn't care what you think. I respect that.The fundamental premise is that several intelligent alien species hold duel to the death once a millennium for no good reason. They think humans are (and have been for millennia) too backward to learn of their existence; but not too backward to be kidnapped to take part in the contest, whereas all the other contenders are hand-picked and know all about it. The other aliens have such evolved morality that the honour of taking part in a not-strictly-necessary fight to the death outweighs the simple fact that such humans (lacking preparation, or any knowledge of the contest, or their opponents' abilities, and having never seen an alien in their lives) will inevitably die ignominiously. It's vitally important that humans not learn anything about them, so they decide to hold this contest in a public building in the centre of a major city. Rather than finding a deserted warehouse or something, they pick the city library. Their cunning plan to avoid detection is to drop a savage alien monster into the library, where it can kill a few passers-by with no connection to the contest whatsoever. Next, they wait until the local law enforcement come in, seal off the building, and set guards inside while monitoring it constantly. Then, and only then, do they use powerful force-fields to block any exit from the building and start porting in contestants, in the process neatly sealing in a few more humans to die pointlessly. Luckily their Advanced Alien Morality has no problems with that.This is about averagely plausible for every other aspect of the book. Much of my enjoyment came from mocking and then rolling with the preposterousness that confronted me on every page. The sequence of hardcore characters set up, one by one, to seem like the protagonist, each kickier-ass than the last! The exploding wristbands! The alien guides whose sole purpose is to be a living webcam and exposition-device! The magnets! The alien cheating! The explosions! The Men In Black!It's incredibly fast-paced, not particularly well-written and utterly implausible at every step, but it were a laugh and it doesn't work the old brain too hard.