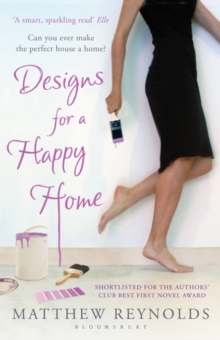 Designs for a Happy Home
Paperback
Description
'Design - For Life!' ...'And Live - For Design!' (Magic Mottoes 2 & 3) Can Interior Design make you a better person?
Alizia Tame(t) believes it can. In this book she will take you on a journey through the most private Interior of all: her thoughts and feelings. Everyone has heard of her creations - the Bridge Hallway, the Funnel Office, the Dawson House with its sofas that run on rails: now you can experience the life that lies behind them.
Meet her husband Jem - the postmodern potter - who is in many ways her inspiration.
Share the thrills and anxieties of juggling family and career.
Discover the truth about her partnership with Fisher Paul and Simon Sanders at IntArchitec, the world's most innovative Design practice.
Remember that when your world flips upside-down it is sometimes the most surprising people who turn out to be your friends ...For while Alizia has a Design for everything from relationships to work to motherhood, the people who matter most to her refuse to fit.
As the gloss she has put on her life begins to crack she realises there may not, after all, be a Magic Motto for everything. And where can she find happiness then?Designs for a Happy Home is the sparkling story of a sometimes impossible, often infuriating but ultimately loveable heroine whose pilgrim's progress through modern marriage is at once funny, poignant and unforgettable.
Information
Format: Paperback
Pages: 256 pages
Publisher: Bloomsbury Publishing PLC
Publication Date: 03/05/2010
ISBN: 9781408801055
Free Home Delivery
on all orders
Pick up orders
from local bookshops
Reviews
Showing 1 - 1 of 1 reviews.
Review by paulmorriss
16/06/2015
One of the quotes on the cover of this book says it's a comic novel. While it is funny, I found that the main character, Alizia, was a bit like a friend who is a bit strange, but you don't laugh at because they're your friend. It's written as a non-fiction book where she tells you about her life and also how interior design can make you a better person. It's different from anything else I've read, partly because of this dual format, but also because of the interior design ideas. As she's a bit naive we can see what's going to happen before she does, and so you're drawn into it, to see how it all works out.