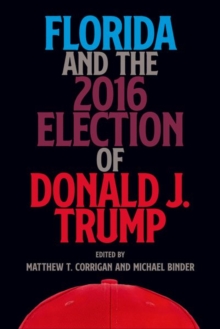 Florida and the 2016 Election of Donald J. Trump
Hardback
Description
Showing how "chaos candidate" Donald Trump scored critical victories in Florida in an election cycle that defied conventional political wisdom, this volume offers surprising insights into the 2016 Republican primary and presidential election.
Using historical and current election results, campaign spending numbers, United States Census data, and individual surveys, contributors find that Trump won rural and suburban voters that the Clinton campaign had ignored.
They discover that early voting was less decisive than has been assumed; that the immigration issue may not have been as important to Hispanic voters as analysts believed; and that African American voter turnout was down significantly from 2012 despite the racially divisive nature of Trump's campaign.
Essays also include a breakdown of how the unpredictable voting patterns in Central Florida's I-4 Corridor often determine which candidate takes the state. Florida's clout should not be dismissed. The state awards more electoral votes than most, and its victor has gone on to claim the presidency in the last six elections.
This volume forecasts the future of the most politically volatile state in the union and reveals emerging trends in the national political landscape.
Information
Format: Hardback
Pages: 192 pages, 37 black & white illustrations, 18 tables
Publisher: University Press of Florida
Publication Date: 30/12/2018
Category: Political science & theory
ISBN: 9780813056234