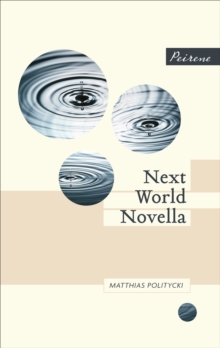 Next World Novella
Paperback
Description
Hinrich takes his existence at face value. His wife, on the other hand, has always been more interested in the after-life. Or so it seemed. When she dies of a stroke, Hinrich goes through her papers, only to discover a totally different perspective on their marriage.
Thus commences a dazzling intellectual game of shifting realities. ------- Why Peirene chose to publish this book: 'This novella deals with the weighty subjects of marriage and death in an impressively light manner.
Shifting realities evolve with a beautiful sense of irony and wit.
It is a tone that allows us to reflect - without judgment - on misunderstandings, contradictory perceptions and the transience of life.' Meike Ziervogel, Publisher
Information
Format: Paperback
Pages: 144 pages
Publisher: Peirene Press Ltd
Publication Date: 31/01/2011
ISBN: 9780956284037
Free Home Delivery
on all orders
Pick up orders
from local bookshops
Reviews
Showing 1 - 4 of 4 reviews.
Review by writestuff
16/06/2015
Hadn't she become even a bit cooler, more distant, more reserved, as if, in her intuitively vegetative way, she had picked up on his dismal failure and wanted to avoid it for herself? Was she secretly ashamed of him, was she suffering with him so much that she was hiding her empathy? - from Next World Novella, page 100 -Henrich and Doro's marriage is established on an unusual premise. Based on her study of the I Ching (one of the oldest of Chinese classic texts), Doro believes that in the next world she will be forced to swim across a very cold lake alone – an impossible task which will eventually take her through a second death to the afterlife. Henrich promises they will do this together – if he dies first, he will wait for her at the edge of the lake; if she dies first, it will be she who will wait for him. At the opening of Next World Novella, the two have been married for years when Henrich discovers Doro has died at her desk, in the process of editing one of his early attempts at a novel. Doro's notes in the margins puzzle Henrich – they seem hostile, and Doro appears to know much about Henrich's secret yearnings. As Henrich sits down by his dead wife and begins to read, the undercurrents of their life come together with surprising revelations.The reader must assemble Doro and Henrich's marriage through his memories of their life, his fictional work, and Doro's puzzling notes. Matthias Politycki writes with a great deal of irony, a dark sort of humor which gives the novella a sense of inevitability.The novella explores such weighty themes as death (and what might come after death) and infidelity. It also begs the question: How well do we really know someone? As Henrich struggles to make sense of Doro's notes, he is filled with frustration that she cannot help him to understand her thoughts.To be dead, he thought, means above all that you can't answer questions, you can't clear things up, you can't get things straight and see that you may have misunderstood them, so they will also be hopelessly false for other people. - from Next World Novella, page 70 -Next World Novella has a dreamy, other worldly feel to it. The reader sometimes feels afloat, at a loss for what is really happening. It is unsettling. I found myself sometimes as confused as Henrich. As the novella moves forward and Doro's body becomes colder and the stench of death becomes stronger, I began to feel almost desperate for Henrich to hurry up and finish reading so he could leave the room.Out of all the Peirene Press titles, this is probably my least favorite – not because the writing is flawed (it is actually brilliant), but because I could not relate to the narrators. This is a highly literary, very philosophical little book which packs a big punch. Politycki provides a bit of a twist at the end, a further question mark in a book filled with questions. Readers who enjoy short, literary works that are a bit open ended, will probably find this novella a good read.Matthias Politycki is one of the most successful literary authors out of Germany. He published Next World Novella in Germany in 2009, and it is now available to English speaking readers through a translation by Anthea Bell, published by Peirene Press this year.
Review by teresa1953
16/06/2015
Hinrich Schepp has never wanted to be the centre of attention. Qualified to be a university lecturer and professor in his field of Ancient Chinese Language, he is content to be a research fellow. He is proud to have won the heart of the remarkable Dorothee Wilhelmine Renate, Countess von Hagelstein whilst at university. She, in turn, surrenders her career to become the plain Frau Schepp, devoted wife and mother. Yes, he is content, even more so, when his poor eyesight, which has plagued him all his life, is restored by laser surgery and the world takes on a new meaning for him. What was once a cloudy blur, is now bright and crystal clear.Unfortunately, what Schepp can now see on waking this morning is his dead wife hunched over the desk where he left her editing his work the night before. True, he had often discovered her asleep in this position and shaken his head at her devotion, but there is a strange smell in the room today which he can't quite place, and now it's source is horrifyingly obvious. As he seems relucant to let her go, Schepp reflects on how they had talked often about the after life...the next world... and Doro's dread of the huge black lake she believed the newly dead encountered as they passed over.In a distressed and anxious state, Schepp discovers the manuscript Doro had been editing is a long forgotten, part completed story of his, and alarmingly, her comments had become scathing and personal. This leads to a story within a story and they begin to take on startling similarities to his own post operative life. Schepp starts to doubt the very fibre of his marriage. All he had believed is called in to question and we learn that Schepp himself has not been entirely truthful to his wife. There are two delicious and intriguing twists at the end of the novella which made me catch my breath.This book was kindly sent to me for review by the publishers Peirene Press and it is the fourth of their stunning collection of European short novellas. This new addition does not disappoint and I congratulate them on their selections, which are all immaculately translated into English and so refreshing to read.
Review by AndrewBlackman
16/06/2015
I finished this 138-page novella in one evening and thoroughly enjoyed it. The book opens with Hinrich Schepp discovering the dead body of his wife Doro. She has been editing an old manuscript of his, a novel he started writing before they met and quickly abandoned. Through her scathing margin notes he discovers an entirely different side to her, and to their 29-year marriage.So the story is told through his reading of the manuscript and Doro's notes on it. The story of the aborted novel bears a striking resemblance to a recent incident in Hinrich's own life, an infatuation with a waitress in a bar, except that in the novel version the male character is more heroic. As he reads Doro's notes and corrections, he understands that she knew all about the things he thought he had kept secret.Hinrich also thinks back to how he met Doro and their early life together, and so we get a wonderful insight into how relationships can change over decades. I loved how Hinrich's laser eye surgery changed his behaviour, making him notice things in life that were blurred for so many years, things like the beautiful waitress in the bar with the mysterious I Ching character on her neck. The operation that was meant to improve his life ended up destroying his peace of mind, as he chased experiences he felt he'd missed out on before, and in reaching for things that were far away he lost the things that were close to him, like his intimacy and love for his wife.There are a couple of nice twists towards the end that I won't give away here. They contribute to the sense that this is a very carefully constructed novella, one in which more or less nothing happens in the 'present', other than Hinrich finding his wife's body and reading the manuscript, but in which a lot of ground is covered in retrospect. Still it's a thoughtful, meditative kind of book rather than a plot-driven one. The author has a lot to say about the nature of love and relationships, and says it very effectively. It becomes clear, for example, why Doro couldn't talk to him about any of these things when she was alive – as he is reading, Hinrich at first denies and then rebuts and only in the end concedes the truth. I felt the intense sadness of Hinrich and Doro's inability to communicate, and the way it erodes their marriage and turns love to hate. One of the twists at the end sheds a more positive light on this, but I promised I wouldn't talk about it so I won't.
Review by BlackSheepDances
16/06/2015
"Where his contemporaries succeeded, he stood aside. Luckily the details eluded him because he saw antying that was more than three to five metres away only in indistinct outline. Of course he noticed something was going on. He just didn't let on, learned another language instead. And although at university he was at last considered a genius and quietly admired, he still always had to stand aside when the real prizes were handed out."What real prizes? That question becomes the theme to this story of Schepp and his wife Doro, two academics who teach Chinese history and whose marriage appears solid on the surface. Schepp serves as an anchor to Doro as she has a tremendous fear of death---she worries obsessively about possible afterlife scenarios. Doro, for her part, is a quiet and agreeable complement to Schepp's genius, and they raise a family together quietly and in peace.That is, until Schepp has eye surgery to better his eyesight. Suddenly, everything changes…quiet and peace are no longer enough: the change in his vision changes his entire outlook on life."It was terrible to see the world in such detail, so sharply outlined, all of a sudden! It had always been so comfortably impersonal in its remote milkiness; Schepp hadn't felt he was missing anything. Now it dazzled him with a confusingly large number of details… Overnight life seemed like one long missed opportunity. If he had previously renounced a great deal, never complained, he was now determined to make up for it."The novel begins ominously, as he finds Doro dead in their study (not a spoiler, it's stated on the back cover!). As shock sets in, he is strangely unable to take the necessary actions, and instead finds himself poring over her notes. The Doro he discovers in print was one he had never seen, although he'd lived with her for decades. Thus the concepts of sight, vision, appearance, and imagination all combine to make this a suspenseful read, from the reality of his dealing with her corpse to the mystery behind her hidden personality.Woven into the story of this couple is another story, one that Schepp wrote in his spare time, "Marek the Drunkard". It has its own suspense and ties in to Schepp's life as he both writes the story and somehow unknowingly appears in it. The denouement of it, a manuscript that Schepp had kept hidden and was somehow now edited by Doro, creates confusion and another element of mystery. It begs the question, how much of a writer's own intentions and wishes are put into their writing? How separate can a writer be from his characters? Was it a novel that he wrote, or a wish list? An alternate life? As the terrible day of his grim discovery proceeds, a sense of anticipation builds. I found myself mentally urging him to call the coroner, to put the notes away, to get some air. Yet he's locked into that manuscript and what she's written…this new woman he hadn't seen before. "He was in such a state that he accused Doro to her face of deliberately distorting the facts, of malicious insinuation. Angrily he asked her why she always had to destroy everything, even in death! Now she had gone and spoilt even this sad day for him…" A thought-provoking read, I wish it had been longer! In a practical sense, it made me never want to smell cut flowers again, and I certainly will make sure my pathetic short stories are password-protected.
Also by Matthias Politycki