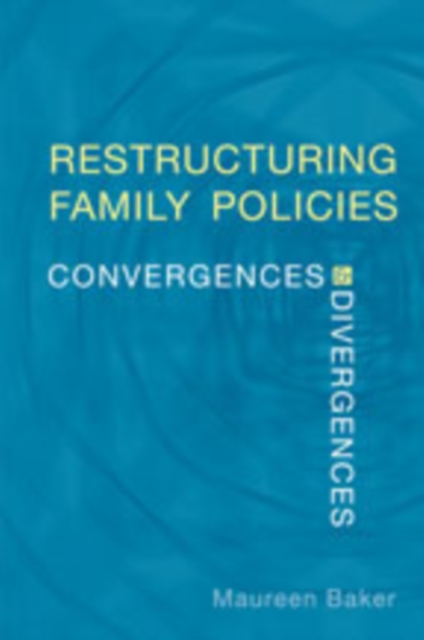 Restructuring Family Policies : Convergences and Divergences
Paperback / softback
Description
Recent years have seen significant changes in the social policies of many liberal welfare-states; this is especially true of social programs for families with children.
Increasingly, governments are making family policy trade-offs, reducing support for some families but improving it for others.
Why are such trade-offs occurring, and how do governments differ in their approach to family social policy?
This study addresses these questions by examining the political, demographic, and socio-economic factors influencing the restructuring of family-related programs in OECD countries. Adopting a feminist political economy approach, Maureen Baker shows that while some governments encourage their citizens to see children as 'future resources,' and promote strong support for reproductive health programs, child welfare services, women's refuges, subsidized childcare, and pay equity, others make these claims while simultaneously reducing family incomes through the deregulation of labour markets and restrictions on income support. Ultimately, Baker demonstrates that nation states with the best outcomes for families offer a variety of social supports, which are increasingly important as global markets reduce economic security for some families while improving the financial situation of others.
This study also explores strategies employed by states to incorporate or resist international pressures, and the reasons why some states tenaciously defend their family policy traditions while others restructure according to international guidelines. Drawing from nation-based research, cross-national studies, and international data bases, Restructuring Family Policies successfully integrates mainstream academic debates about restructuring welfare states with feminist research findings and current policy concerns.
Information
Format:Paperback / softback
Pages:308 pages
Publisher:University of Toronto Press
Publication Date:03/11/2006
Category:
ISBN:9780802085719
Other Formats
PDF from £33.14
Hardback from £46.59
Information
Format:Paperback / softback
Pages:308 pages
Publisher:University of Toronto Press
Publication Date:03/11/2006
Category:
ISBN:9780802085719