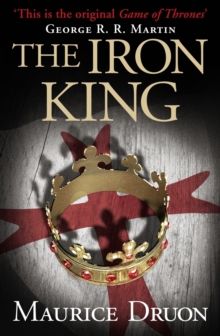 Description
`This is the original game of thrones' George R.R. Martin From the publishers that brought you A Game of Thrones comes the series that inspired George R.R.
Martin's epic work. "Accursed! Accursed! You shall be accursed to the thirteenth generation!" The Iron King - Philip the Fair - is as cold and silent, as handsome and unblinking as a statue.
He governs his realm with an iron hand, but he cannot rule his own family: his sons are weak and their wives adulterous; while his red-blooded daughter Isabella is unhappily married to an English king who prefers the company of men. A web of scandal, murder and intrigue is weaving itself around the Iron King; but his downfall will come from an unexpected quarter.
Bent on the persecution of the rich and powerful Knights Templar, Philip sentences Grand Master Jacques Molay to be burned at the stake, thus drawing down upon himself a curse that will destroy his entire dynasty...
Information
Format: Paperback
Pages: 368 pages
Publisher: HarperCollins Publishers
Publication Date: 11/04/2013
Category: Historical fiction
ISBN: 9780007491261
Other Formats
EPUB from £3.49
eAudiobook MP3 from £10.39
Free Home Delivery
on all orders
Pick up orders
from local bookshops
Reviews
Showing 1 - 5 of 24 reviews.
Previous | Next
Review by viking2917
27/08/2015
George R. R. Martin called this "the original game of thrones", and that's apt. Interesting to read the beginnings of the 100 years war from the French perspective, rather than the English one, as I usually do.
Review by madnessabides
16/06/2015
When GRRM tells me to read a book I generally give that book a serious look - he isn't some grand prophet of my reading tastes, but he does throw out a good read for me from time to time. Fortunately, The Iron King was a thoroughly enjoyable read. Historical Fiction can be pretty hit or miss with me - it really makes no difference whether I know the history of a given a book or not, it just must be a good read... The Iron King is that! I knew very little of the historical events of this novel going in, but that made little difference in the end. I look forward to the future books of this series being re-released and reading more from Maurice Druon.
Review by al.vick
16/06/2015
An enjoyable piece of historical fiction about the end of the Templars and the death of Phillip the Fair. I'm not very familiar with French history, but it was engaging and easy to follow. I felt like not as much happened as I expected, so I will be interested to read the following books. All in all and enjoyable read but not outstanding.
Review by mattdocmartin
16/06/2015
This was a tough book to review, as it is very good for what it is, but I did not enjoy it. Considering the age, it is VERY well written, and if you want a great historical novel and plenty of follow up books, start here. I also found it mildly dry.But worth it if it is your thing!
Review by Mary6508
16/06/2015
Looking at the cover of the book, which says this is the original "Game of Thrones," I expected something more than the story this book presents. I was looking for all the drama, adventure, excitement that I got from G.R.R. Martin's series. All these are present in The Iron King, but really toned down. This book was more of a history than an adventure novel. Once I realized that, I was able to enjoy it, although it can't compare with "Thrones", if that's what you're looking for. Thank you LT, for my Early Reviewer copy.
Also in the The Accursed Kings series | View all