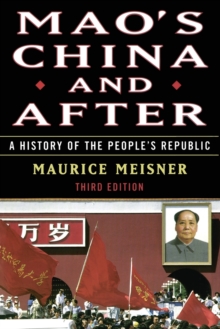 Mao's China and After : A History of the People's Republic, Third Edition
Hardback
Description
When MAO'S CHINA first appeared in 1977, it was hailed as the single most useful general volume on recent Chinese history, covering every important question of the time with clarity and amazing insight.
Now, Meisner brings the third edition of his definitive work, with new information provided throughout the classic study.
Including a whole new section in Part Six, 'Deng Xiaoping and the Origins of Chinese Capitalism: 1976-1998', Meisner assesses the country's uneasy relationship with democracy, socialism and capitalism.
Retaining the elegance, lucidity and comprehensiveness he is known for, Meisner moves far beyond his previous work to paint a never-before-seen portrait of the political and social realities of China on the brink of the new Millennium, and the global implications of its rise to economic and political power.
Information
Format: Hardback
Pages: 608 pages
Publisher: Simon & Schuster
Publication Date: 01/04/1999
Category: Asian history
ISBN: 9780684856353